Citylets Rental Report Q1 2007 Summary
Aberdeen rents surge on increased demand.
The inaugural Citylets Report shows strong price growth for rental properties in Aberdeen with rents for one bedroom flats 18.4% higher in Q1 '07 than Q1 '06. In Q4 '06 one bed flats in Aberdeen were letting extremely quickly with a staggering 46% being let in a week or less. Fuelled by an increase in employment in the booming energy sector, a strong local economy and buoyant house prices, rents for all properties in Aberdeen have experienced the most growth over the period and remain considerably higher than elsewhere in Scotland.
The Scottish Rental Index shows that private rental accommodation has risen by 1.9% on Q1 2006 so in real terms the cost of renting has fallen slightly.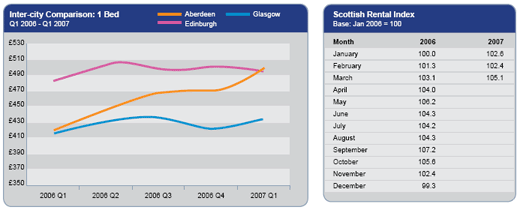 Rents in Edinburgh and Glasgow show little to modest growth with some exceptions. Larger flats and houses in Edinburgh experienced healthy increases with rental values for 4 and 5 bedroom properties showing increases of 15.6% and 6.9% respectively.
Larger properties have always been popular with students but with the student population levelling off after years of strong growth the price rises are probably attributable to other factors. Possible reasons might include: higher interest rates; an increase in demand for larger properties by migrants to Scotland (e.g. Polish) and; falling supply with landlords dissuaded by the cost and compliance requirements of HMO (House in Multiple Occupation) licensing.

Please install Acrobat reader if you cannot view the report: