Citylets Rental Report Q2 2007 Summary
Rate Expectations:
With sub-prime mortgage woes in the US, and interest rate rises, fresh government initiatives to tackle the housing shortage and reports of levels of inequality in wealth and poverty last seen in the sixties in the UK it has certainly been an interesting few months.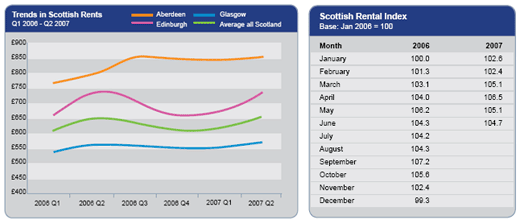 And indeed, year-on-year rental growth in average Scottish rents has also been remarkable - if only for the modest increases seen. While there are exceptions, most notably in Aberdeen, the Scottish rental index shows only a 0.6% increase Q2 '07 - Q2 '06. Given that interest rates rose four times between the periods we may have expected to see rents move higher than they have done. With interest rates moving up another 0.25% this month and widely expected to go higher again should we expect to see rents move higher?
On the face of it landlords are facing higher borrowing costs and it would be reasonable to assume that these will be passed on resulting in higher rents. However, with many landlords reported to have fixed their borrowing costs, rent raises may not be a large nor as urgent as would otherwise be expected. Unless there are changes in the supply of rental properties and/or tenant demand it seems most likely that rents will remain under relatively gentle upward pressure.
1 and 2 bed flats to rent in Aberdeen are still in demand with both seeing growth in excess of 12% over the period. There, among other factors, the steep house price increases in the last half of 2006 almost certainly contributed to higher demand for rental properties as buying became less affordable.

Please install Acrobat reader if you cannot view the report: