Rents in Scottish PRS Rise Less Than Inflation 2004-2013
Private rents in Scotland have been rising well below the rate of inflation since our records began in earnest back at the start of 2004. The CPI has risen 30% between 2004 and 2013 compared to just 7% for national Scottish rents. 
Against this backdrop, it is difficult to find argument in support of the introduction of Rent Control, a subject debated- and defeated- in the Scottish parliament earlier today.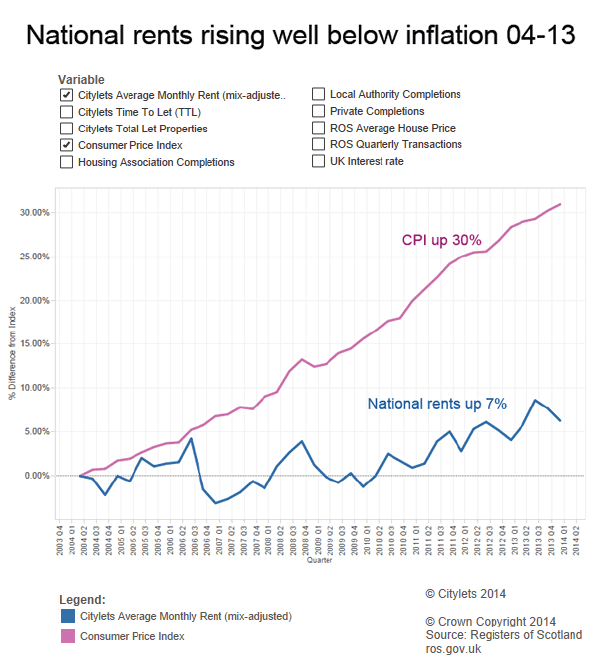 Indeed it is of interest to see rents rising approximately in line with inflation only since one of the last wholesale policy changes was imposed on agents against the will and expectation of many- the abolition of tenant fees. It had widely been expected that fees would be capped, not abolished.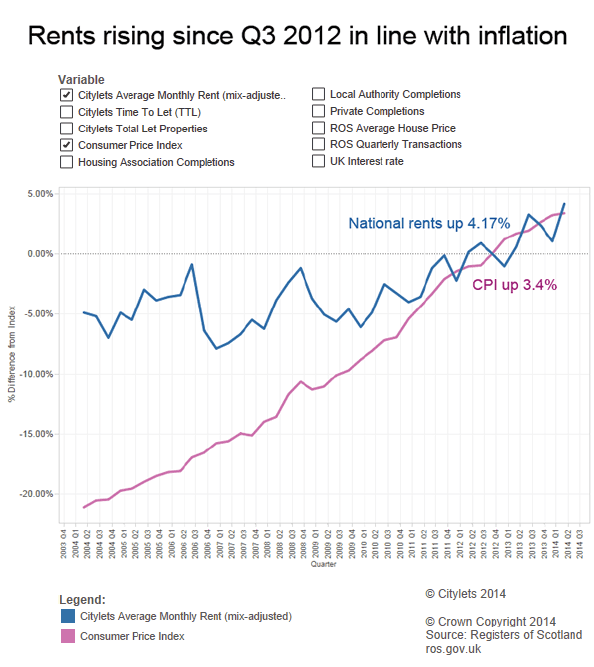 Despite the striking co-incidence, it would be unkind to suggest that this recent above inflation rise is a direct consequence of any single market force or event and Citylets remains committed to balanced reporting and interpretation. However it would be preferable if all parties to the PRS debate would reciprocate and take full advantage of all the data available and not just select observations on micro markets. 
The fundamental problem that needs addressed is the building of more houses across all tenures. Abundant supply in any market affords the best natural price control and is probably the one thing all sides of the debate can agree on. With Homes For Scotland confirming house completions in 2013 were at their lowest level since 1947 and less than half the annual target set to be reached in 2015, it is clear that all energies need to be focused here. 
It is also clear that certain urban pockets of Scotland's PRS are now facing a chronic shortage in supply, however addressing this with a blunt instrument for the whole market such as through rent controls seems to the lack the empirical data in support.
Citylets data was made available to politicians party to this debate from a number of sources, most notably the Scottish Association of Landlords (SAL) / CLA.
SAL /CLA are at the heart of  legistlative matters on the PRS and was a member of the working group which put forward recommendations to the Government. Their summary of all yesterday's crucial events are well worth a read and can be found below:
https://www.scottishlandlords.com/NewsPolicy/PolicyItem.aspx?ArticleId=198