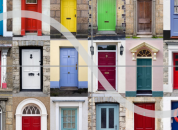 The Scottish PRS continues to prove very robust to geopolitical change as it plots a predictable path in Q1 2017. Competing forces from the central belt and Aberdeen result in a (near) zero sum game at just 0.1% YOY national growth. Rents in Aberdeen have indeed fallen to national average, as suggested in our last report,...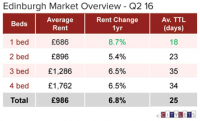 The Edinburgh rental market has sustained a steep upward trajectory towards £1000 per month since Q4 2013. Average asking rents now stand at £986 per month as at Q2 2016, up 6.8% from a year ago. Positive annual growth has been recorded in the capital on consecutive quarters for over 3 years and with a...

Average asking prices for property and flats to rent in Edinburgh maintain their march upwards towards the £1000 mark, with rents up 6.6% on the year to stand at £972 at Q1 2016. 1 bed properties rose a full 9.5% to stand at £678 per month on average whilst 2 bed properties rose 5.5% to...