The Scottish Private Rented Sector recorded another annual rise as at Q3 2018 with rents up 2.2% to stand at £789 per month on average. Continued demand for properties of all sizes pushed rents higher with 4 bed properties, as per previous two quarters of 2018, recording the steepest annual growth at 5.5%. The average Time To Let (TTL) for a rental property averaged 1 month (31 days), one day quicker than the same period of the previous year. A significant 61% of all properties are let within 1 month.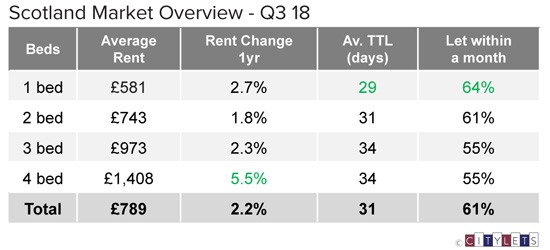 Edinburgh
Once again rents in Edinburgh rose during Q3 2018 bringing the market to yet another all time high, now at £1107 per month on average, up 5.6% year on year (YOY). All property sizes recorded strong annual growth with 4 bed properties rising fastest over the year at 10.8%, in part likely to reflect the continued strong demand for family rental accommodation. Of concern to tenants will be the uptick in the rate of growth for Edinburgh back to the 5-6% range after lying in the 3-4% range for around a year prior to Q2 2018. It is the 32nd consecutive quarterly recording of annualized rental growth for the capital. TTLs remain very low in Edinburgh with 76% of all properties to rent in Edinburgh let within a month.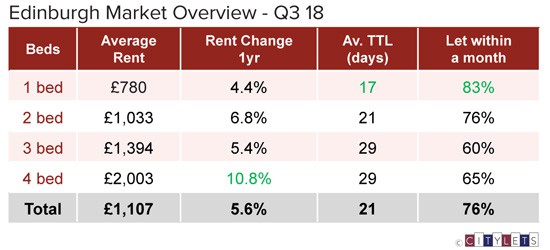 Aberdeen
Aberdeen landlords can remain cautiously optimistic that their market may soon level off completely and, with the price of oil having been on an upward trend for nearly 3 full years, may well start to return to positive growth. Rental growth as at Q3 2018 was just minus 3.6% with 1 bed properties posting minus 2.7% growth for the second consecutive quarter. Of material interest will be the reduction in average TTLs, down 4 days on the previous year to 45. 42% of properties to lease in Aberdeen let within a month, up from 37% in Q3 of 2017.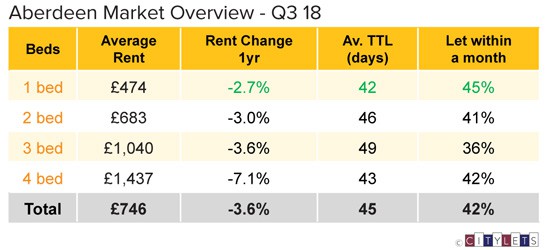 Glasgow
Glasgow, for so long the bastion of rental stability in Scotland with consistent and low annual growth, posted an unexpected and sharp rise in average rents of 4.9% YOY. Rental properties in Glasgow, on average, now rent at £785 per month and let in just 24 days. It is unclear why all markets saw large annualized growth over and above what would naturally be expected in the traditionally busiest period of the year. Consequently, the gap between Scotland's largest and the granite cities has opened up with a material gap now emerging between them. It will be interesting to view figures at the end of Q4 to conclude whether a new city dynamic has emerged.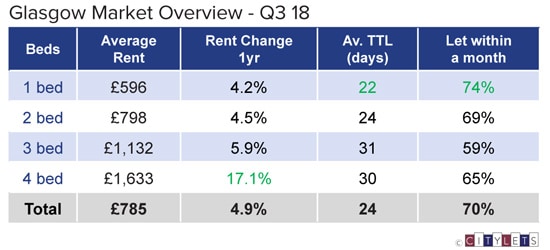 Dundee/West Lothian/South Lanarkshire
Dundee also experienced a rise in the annual growth rate for its rental market, up 3.4% to average £604 per month. Strong demand for large family and student homes led the rises at 11% and 7.9% respectively. Nearly half (48%) of properties to rent in Dundee, let within a month, up significantly on recent quarters. West Lothian rental market has again posted strong annual growth, up 4.8% to £697 per month, with a significant reduction in TTL of 9 days. Growth in South Lanarkshire continued for the fourth consecutive quarter, albeit easing to 1.9% from 3.8% last quarter.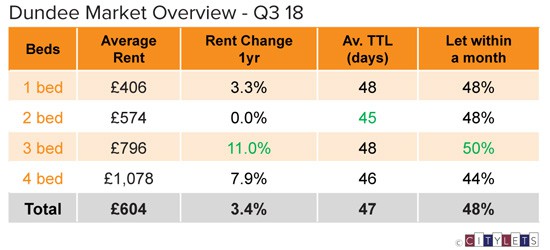 The full Citylets Quarterly Report on Scotland's rental prices can be found at:
https://www.citylets.co.uk/research/reports/property-rental-report-scotland-2018-q3/
A report PDF is available at:
https://www.citylets.co.uk/research/reports/pdf/Citylets-Quarterly-Report-Q3-2018.pdf
The Citylets Quarterly Report is widely regarded as the most authoritative barometer of the Scottish PRS with expertise built up over 12 years of publication. For enquiries, please contact us.