Moda Living has purchased the former Strathclyde Police Headquarters at Pitt Street and will build hundreds of rental apartments. Moda Living already have several large Build To Rent developments in England and this purchase will be their first in Scotland. Not only is it a clear indication of confidence in the Scottish rental market, it...

Imagine the scenario… Serviced accommodation with lounge and coffee/bar areas, rooftop terraces and gardens, libraries, movie rooms, on site launderette facilities, concierge; all within walking distance of the city. You may think we've just described a venue for a well-deserved city break however this is the reality of build to rent – a new style of...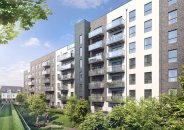 Owned by LaSalle Investment Management and managed by Dandara Living, Forbes Place at Stoneywood in Aberdeen is the first build to rent development in Scotland. It features high standard accommodation of 292 fully furnished apartments and townhouses available exclusively for rent. Forbes Place is a part of a much needed response to a housing crisis...