When choosing tenants for your rental property you look for someone tidy, honest, responsible and reliable to pay the rent on time. It may understandably not occur to you at first to look for any signs they could be potential drug cultivators. Sounds a bit over the top?
It is said that cannabis (Class B drug) is the most widely used of illegal drugs in the UK and according to landlord insurer Direct Line for Business, over 90% of the factories are located in domestic premises.
Cannabis farms in rental properties
"Cannabis farms are becoming more prevalent in residential properties and can lead to thousands of pounds of damage along with a costly and difficult eviction. Landlords need to be vigilant in order to reduce the risk of becoming a victim of this crime," according to John Blackwood from the Scottish Association of Landlords, "as it is often them who pay the price."
Only recently media have reported a case where two cousins were jailed for turning the property they were renting in Hartlepool into one of these cannabis farms. They were in possession of 23 cannabis plants, capable of producing 989 grams worth nearly £10,000. What gave them away was the high electricity bill which alerted the landlord who contacted the police as soon as he discovered the cannabis in his property. Both defendants pleaded guilty and were jailed for 13 and 9 months. They had multiple previous convictions including drug offences.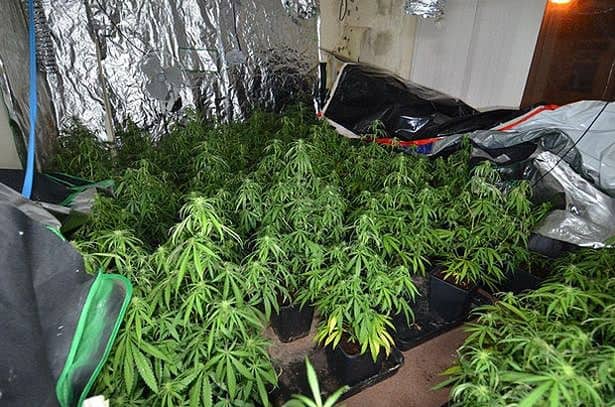 What does the law say?
Under the Misuse of Drugs Act 1971 a landlord or letting agent who allows their rental property to be used for production or supply of controlled drugs can receive a maximum of 14 years in prison and/or a fine. Landlords who turn a blind eye not only can face a criminal prosecution but also bankruptcy as most insurers will not cover for loss of rent or damage resulting from criminal activity. Therefore, it is important to stay vigilant.
Tell-tale signs
Blacked out windows
High level of heat and condensation
Large lighting equipment and ventilation fans
Strong lights on day and night
A sudden jump in electricity bills
Electrical wiring being tampered with and bypassed circuitry
Large quantities of vegetable materials being disposed
People coming in and out at unusual times
Landlords and letting agents – don't fall victim
Selecting the right tenants for your property can be tedious but do your homework to give yourself/your property protection. Choose carefully and always follow these simple steps;
Check identities thoroughly (use photo identification and ensure it has not been altered)
Do full credit checks and references
Be wary of tenants offering to pay in cash and/or for long periods up front
Check prospective tenant's current address and their rental history
Look out for utility bills in different names
Take a note of all prospective tenants' mobile numbers
Carry out regular inspections of the property
Maintain contact with neighbours and encourage them to alert you to any suspicious behaviour.
If you have reason to believe your tenant is involved in cannabis cultivation, do not confront them. Contact the police immediately instead and let them do the job. Remember, the law holds you as a landlord or letting agent responsible if you allow production or supply of this Class B drug from your rental property and the penalties are severe…