Citylets Passes The 3 Million Visitor Mark
With over 6 weeks left to go in 2012, Citylets.co.uk reached 3 million site visitors for the year to date (source: Google Analytics) surpassing the full 2011 total. It's a new milestone for Citylets which now seems set for an approximate 15% rise on last year.
With a 22% annual rise recorded in 2011, the growth of Citylets in recent years has resulted in an audience reach now in excess of treble that of 2007.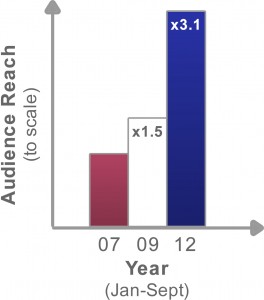 We are delighted to be continually increasing our coverage for our clients and already look forward to what can be achieved next year with our full focus on Citylets.co.uk
TV ads for Citylets on STV are ongoing and contributing to an extraordinary year end period that saw October traffic up no less than 23% on last year.