Citylets is delighted to be sponsoring The Agency Business conference 2018 where the Scottish letting agent industry gets together. Held at Doubletree by Hilton Hotel Glasgow Central on 10th May, the conference which is now in its 6th year unveils a new format for the letting industry's prime event.
Share, learn and network on 10th May in Glasgow
With a brand new format including workshop seminar sessions as well as informative speakers and a huge trade exhibition, it provides excellent opportunities to share information, learn and network.
Commenting on the sponsorship, Citylets PR Manager, Gillian Semmler, said: "We are very much looking forward to the conference. With 2018 being a crucial year for the reverberations of the new PRT, the impending introduction of GDPR and Letting Agent Registration coming into force in October, the conference is certain to be an invaluable day."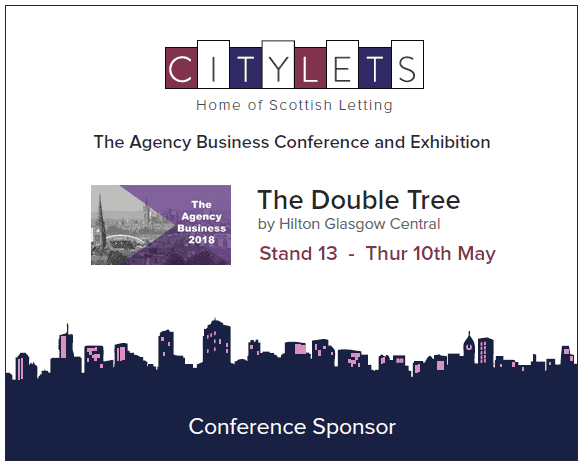 Looking forward to welcoming delegates, exhibitors and speakers SAL Council of Letting Agents director Mike Campbell said: "This is a huge year for Scottish letting agents and the date of 1st October is circled in red ink in most agent's diaries. Attending the conference is a great way to check in on all the essential information and I look forward to seeing the industry out in force on the day".
Workshops and speakers will cover everything that's new and all the essential knowledge for the sector, with options to include technology, working with the GDPR data protection requirements, training and qualification, meeting the new code of practice, complaints handling and much more.
Code of practice requirements
The Agency Business is a full-day conference with content specifically designed for Scottish letting agents and their staff. Delegates also gain five hours of Scottish Government recognised CPD to count towards the code of practice requirements.
If you haven't yet booked your place, please call the Scottish Association of Landlords (SAL) on 0131 564 0100 or book online here.
For a flavour of the event check out last year's highlights video