Competition for larger 4 bed properties lifted the Scottish national average into positive growth for the first time in 3 quarters. Average rents in Scotland rose to £780 per month, up 1.6% year on year (YOY). 4 bed properties rose 6% to stand at £1585 on average reflecting seasonal demand from the student population in large urban areas. Property to rent in Scotland has risen 3.1% on average over the last 5 years and 2.1% over ten years.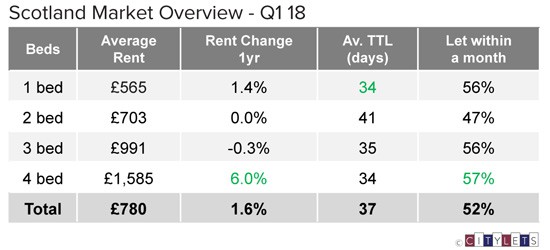 Edinburgh
Supply of rental property, in terms of the number of properties available to rent, has been steadily reducing since its peak in 2013. Nowhere has this been more keenly felt than in Edinburgh where annual rents have been increasing, as measured quarterly, for 8 full years. However whilst the 5 year average rise of 6% will be concerning for tenants, the ten year view of 4.2% is broadly in line with the CPI+1+N proposals for rent caps in any designated rent pressure zone. In other words, the current form of rent cap would offer the highest going rate in the open market in any of Scotland's cities on the long term view. Rents in Edinburgh are currently at an all time high of £1062 on average, up 3.8% on last year. 1-4 bed properties all posted positive growth of between 3 and 6 % YOY with 3 and 4 beds letting quickest bucking the normal trends and reflecting the very strong demand from students in the capital.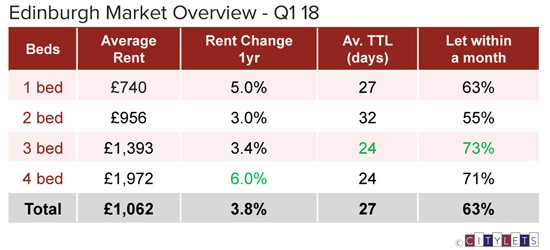 Glasgow
Rents in Glasgow have also been increasing steadily, not as sharply as in Edinburgh but for nearly the same amount of time- 28 consecutive quarters, 7 years. Q1 2018 records a 1.2% YOY rise to £749 on average, overtaking Aberdeen, but growth has slowed remaining in the 1-2% range down from both the 5 year average of 4.4% and the 10 year average of 3.2%. The average property in Glasgow takes 1 month to rent, up 1 day on Q1 2017. Larger 4 bed properties saw the steepest rise in Q1 2018 up 7.3% YOY to £1600.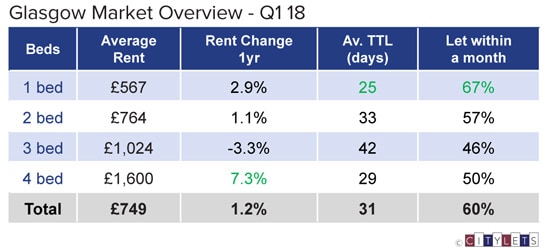 Aberdeen
Rents in Aberdeen fell below national average for the first time this quarter however this is not likely to unduly unnerve investors as the trend towards levelling off continues. The average rental property in Aberdeen costs £736 per month, down 4.2% YOY. As with Scotland's other large cities, 4 bed properties fared best recording positive growth, albeit slight at 0.3%. The average property in the granite city takes almost 2 months to let at 58 days. The 5 year picture for Aberdeen is down 23.4% but the ten year view is less at minus 16.8%.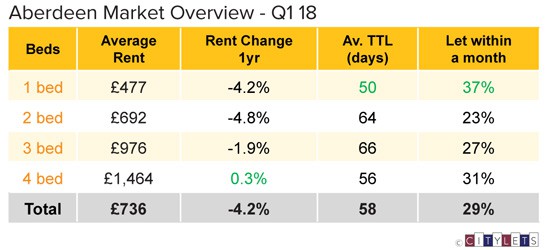 Dundee/West Lothian/South Lanarkshire/Renfrewshire
Dundee also returned to positive growth in Q1 2018, up 0.7% YOY, but driven by strong gains in the main 1 and 2 bed markets- up 5.6% and 2.5% respectively. The average property in Dundee rents at £614 per month and takes 46 days to let. Rents in West Lothian also posted sharp annual growth, up 4.6% YOY, with all 1-4 bed markets recording sharp rises. 1 bed properties in South Lanarkshire recorded 3.8% growth leading the region to a 0.7% annual rise.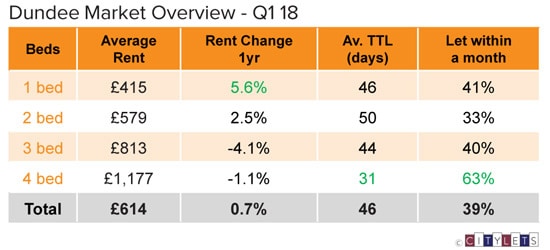 The full Citylets Quarterly Report on Scotland's rental prices can be found at:
https://www.citylets.co.uk/research/reports/property-rental-report-scotland-2018-q1/
A report PDF is available at:
https://www.citylets.co.uk/research/reports/pdf/Citylets-Quarterly-Report-Q1-2018.pdf
The Citylets Quarterly Report is widely regarded as the most authoritative barometer of the Scottish PRS with expertise built up over 11 years of publication. For enquiries, please contact us.