Citylets Wins Best UK Niche Portal at Propertydrum B2B Awards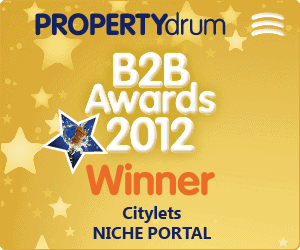 We're delighted to report Citylets.co.uk won best Niche Portal at the PROPERTYdrum B2B Awards in London on Tuesday 1st May. The ceremony showcased the top suppliers to the wider property sector with 17 categories judged by a panel of leading industry figures such as Mark Hayward (CEO NFoPP), Wendy Evans Scott (President NAEA), Ian Potter (Operations Director ARLA) and Alan Collett (President RICS).
Commenting on the win, Founder and MD of Citylets Thomas Ashdown said:
"We're obviously delighted to win this award and from such a distinguished judging panel. The big 3 Portals, soon to be 2, dominate the headlines day after day but there are, and perhaps agents should be encouraged to know, credible Niche sites in the UK.  We are very grateful to Propertydrum for having the insight to recognise this and provide an award category."
The win came on the same day that Experian Hitwise again confirmed Citylets.co.uk as the No 1 Lettings Site in the UK (April 2012) in a custom category of residential letting sites. We continue to invest in our brand and are, we believe, starting to see a clear gap opening up between us and competitors in terms of visitor numbers.