Who's who and what's what (for the benefit of homeowners and landlords)
Common repairs are a well-known source of migraines and arguments in Scottish tenements. Until the legislation changes and innovative building management platforms are more widely used, this is unfortunately likely to continue. Here, we try to deal with one of the key pain points associated with getting work over the line: understanding who does what, and how you can be helped.
The council
They do two key things: advise and enforce.
All Scottish councils have to have a "scheme of assistance". In other words, they provide some services (they decide which ones) to help people carry out work on buildings.
Each council has a different "scheme of assistance". What you get in Edinburgh can be different from what you get in the Highlands.
To know what the "scheme of assistance" is like in your council, Google "scheme of assistance" and the name of your council.
Sometimes, they can help ensure you're not out-of-pocket covering someone else's share of works.
As part of the "scheme of assistance", some councils offer a "missing share" scheme. This is a means for them to front the share of an owner who is not paying up. They will then recoup this money from the recalcitrant owner themselves (and charge them a premium).
To get a "missing share" paid, you should be following a procedure, otherwise the council won't be able to pay.
Under One Roof
Under One Roof is a charity dedicated to assisting people with managing buildings in co-ownership in Scotland. It was created by Annie Flint, one of the country's foremost experts on the subject, and John Gilbert, a well-known (now retired) architect (the company that bears his name is still active).
Since 2021, the charity is now run by a new management team.
Under One Roof is mainly funded by donations from councils, some associations, some property factors and the Scottish Government.
The owner's association
Your building may or may not have an owner's association: a formal grouping of owners for managing the building. This is not mandatory in Scottish tenements (yet), but recommended. If you don't know if there is one, knock on doors and ask around.
"Trusted Traders", "Reference Line", "Buy with Confidence", etc.
These are all businesses which partner with councils. They create, control and maintain listings of traders which have been vetted by Trading Standards, which is a council service whose goal is to "protect consumers from illegal trading practices and support the business community to comply with consumer protection legislation."
Traders pay to be listed on these schemes. Before being accepted, these schemes check them: Do they have appropriate insurance? Are they VAT registered? Do they follow health and safety regulations? Do they have a criminal record? Etc.
In return, these schemes provide traders with more credibility on the marketplace.
Does this mean that all traders on these lists are perfect? No, however, these schemes do offer some extra level of confidence and often offer a dispute resolution mechanism which you can rely on in case of a conflict with your builder.
It doesn't mean that traders which aren't on those lists are bad. It means you are relying on your judgement only to assess if your builder is suitable and reputable.
Surveyors, quantity surveyors, structural engineers, architects
They are building experts. They don't build the building itself, but they do the analysis, drawings, plans and can project manage building works. When works are vague or complex, they should be called in first to see what the correct course of action.
Surveyors will analyse a property, or a problem, can provide you with a remediation plan and manage builders on site. Surveys typically cost a fee per stair or per flat. When surveyors oversee works, project management fees are typically a proportion of the work's cost.
Typical question they answer: what's wrong with my building?
Quantity surveyors can give you specific information about materials and costs, they are experts at pricing works.
Typical question they answer: how much will this work cost exactly?
Structural engineers are experts on the soundness and safety of a building. They typically deal with heavier types of work.
Typical question they answer: is my building safe to live in?
Architects design or refurbish properties. They will provide you with plans which you can then get costed and built. In certain parts of Edinburgh, they need to be "conservation accredited" in order to work on certain protected buildings. Typical question they answer: how can you take your existing home to a higher level of energy efficiency?
Property factors are tasked with looking after the condition of property and arranging for repairs and maintenance. They can typically arrange for cleaning and garden maintenance, fix small repairs automatically (up to a certain threshold) and sometimes lead on organising larger repairs (providing owners respond to their queries).
They are not responsible for any social aspect to living in a tenement, for instance, if the behaviour of some is anti-social.
Property factors are more or less mandatory in Glasgow, not in Edinburgh. Between a half and two-thirds of flats in Scotland use property factors.
Factors have to abide by a code of conduct and provide owners with a clear statement of services. They are usually paid monthly or yearly, and charge a subscription (service) fee.
Confusingly, property factors are also sometimes called "property managers", which is also how many letting agencies call themselves. Some letting agencies are also factors. Confusing indeed.
Property managers are the people who manage property lettings on behalf of landlords who don't do it themselves.
They are paid by the landlord of the property they manage and have a service agreement with them detailing what work they do for them. This could or could not include common repairs (often, it does).
If you are a tenant and rent from a letting agent, you should contact them about the repair first, even if your building has a factor.
Check your letting agent's website – many have a dedicated repair-reporting system. They may then get back to you to tell you when someone will come in and inspect the issue. But if you're a tenant, you're off the hook: organisation and payment is organised by property managers and the landlords they work for.
Novoville Shared Repairs
Novoville are a private business dedicated to helping homeowners self-factor i.e. manage repairs and maintenance themselves.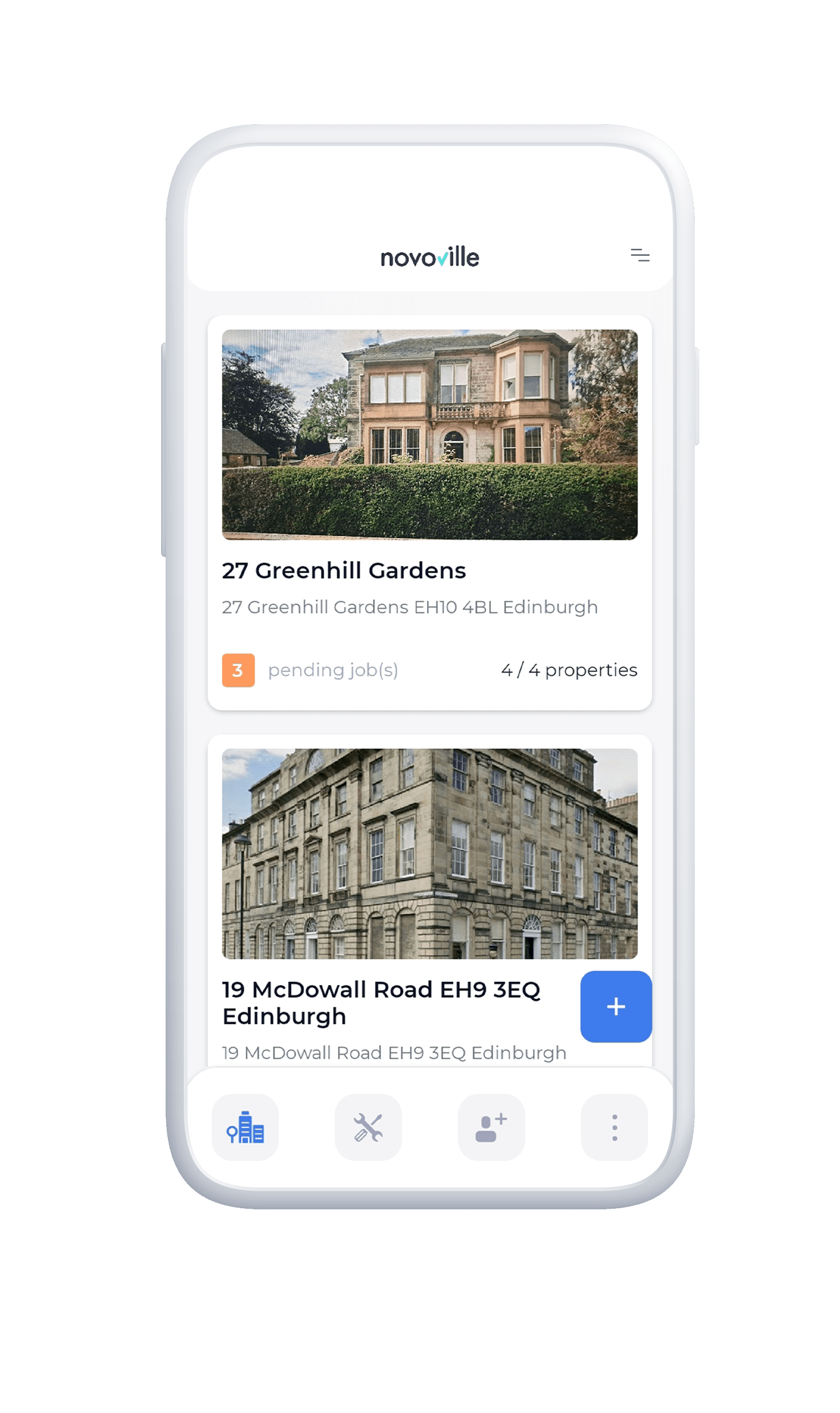 They were created during the CivTech program, a Scottish Government-backed technology accelerator, in collaboration with the City of Edinburgh Council. Both have given them seed funding to get started, but they do not provide them with ongoing financial support. Novoville work closely with their housing teams providing "schemes of assistance" and operate within council areas with their consent and support. They support Under One Roof with some capital expenses.
Novoville partner with local Trusted Trader schemes wherever they are available to bring their members into the app (their service is mobile-app based, with a web version coming soon). They are a member of the RICS Tech Partner program.
Novoville charge a fee based on the cost of the repair. They also offer their technology to property factors, so it is possible that you will use their app through them.