The Edinburgh rental market has sustained a steep upward trajectory towards £1000 per month since Q4 2013. Average asking rents now stand at £986 per month as at Q2 2016, up 6.8% from a year ago. Positive annual growth has been recorded in the capital on consecutive quarters for over 3 years and with a diversified economy and enduring appeal there is no obvious sign or reason to believe this will not continue into 2017 and beyond.
The Citylets Report to Q2 2016 records 1 bed properties in Edinburgh as the largest risers, up 8.7% on the year to average £686 per month and taking just 18 days to let. 34% of 1 bed properties in Edinburgh let within a week and 81% within a month. 2 bed properties also recorded positive annual growth at 5.4% to stand at £896 with an average Time to Let of 23 days.
Larger 3 & 4 bed properties both rose by 6.5% over the year to stand at £1286 and £1762 per month respectively, reflecting the increased demand for family homes. 3 & 4 bed homes also let more quickly that a year ago in contrast to smaller 1 & 2 bed properties which saw almost no change. A significant 70% of all houses and flats to rent in Edinburgh now let within a month.

For Landlords, investing in the Edinburgh rental market has returned significant gains for all property types from a 1, 3 & 5 year perspective with rises of 6.8%, 20.5% and 28.2%. The 5 year picture records all (1-4 bed) property types averaging growth of around 5.5%. Whilst the longer term picture is more sanguine, recent trends in the Edinburgh rental market make for very uncomfortable reading for tenants who are seeing rents outstrip both inflation and wage growth by some margin.
On current evidence, it would seem likely that Edinburgh would be the first region to apply to the Scottish Government for designation as a 'rent pressure zone' and enact new powers of rent controls. The disconnect not lost on many however that the control of CPI + 1 would then apply to the sitting tenant market, not the open market ie new tenancies upon which most market analyses to date have been based.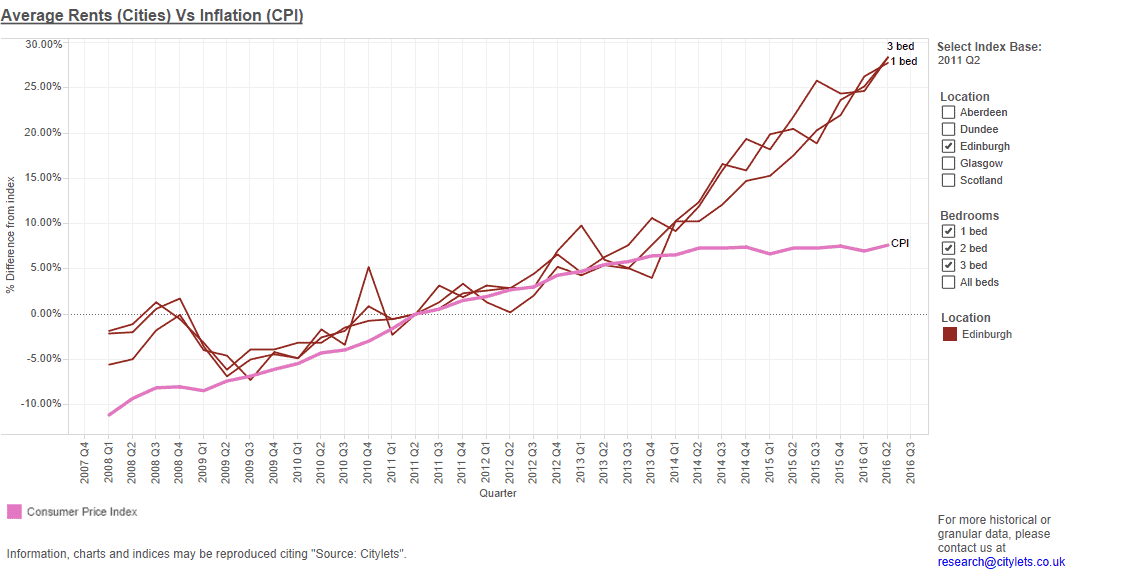 Commenting on the latest market report, John Horsburgh from Edinburgh letting agency Rentlocally said:
"The second Quarter of 2016 has continued to deliver strong levels of demand for rental property across the entire spectrum and shows no sign of slowing. The PRS is thus far defying predictions of overheating due to rising rents outpacing wages and continues to deliver excellent yields to landlords unmatched by any other form of investment."
The Citylets Rental Index for Edinburgh currently stands at an all time high of 132, up from its Q1 2008 base at an average of around 4% per year. It is likely that the Edinburgh index will keep climbing.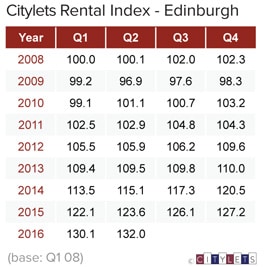 The full Citylets Quarterly Report on Scotland's rental prices can be found at https://www.citylets.co.uk/research/reports/
The Citylets Quarterly Reports are widely regarded as the most authoritative barometer of Scotland's Private Rented Sector with expertise built over 10 years of publications. For enquiries, please contact us.