The online register of private landlords was first introduced in 2006 but since then digital technology has evolved a great deal and the system has become outdated. In response to the increasing users' needs and changing standards, a new digital application for the register of landlords has been developed for the Scottish Government by Register of Scotland.
Joint forces, one goal
The new system is a result of a close collaboration between the Register of Scotland, the Scottish Government and local authorities. It is aligned with Government Digital Standards and can be accessed on various platforms such as smartphone, tablet or computer.
Sheenagh Adams, the Keeper of the Registers of Scotland, said: "By working with the Scottish Government and local authorities, Registers of Scotland has developed a new landlord registration application that will bring significant benefits to the sector as a whole."
She added: "The new application is a key part of our business transformation, utilising digital technologies that allow us to deliver even better value for the public."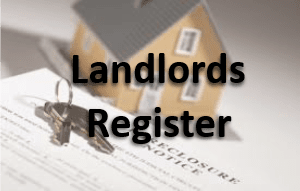 Improved user experience
Anyone searching information on landlord or property registrations for all private rented accommodation in Scotland should now find the system easier and more user friendly. New and existing landlords will also benefit from a more straightforward application, management and renewal process. Maintaining the register of landlords by local authorities will be simplified and will enable public officers to keep on top of those landlords who do not comply with their legal responsibilities.
Kevin Stewart, housing minister, said: "This new application provides a better and more accessible service for those who need to use it. Crucially, it will reduce the time that local authority staff need to spend administering the system, freeing them up to target those landlords who either don't or won't comply with the landlord registration requirements. That will help to improve standards for the 700,000 people whose home is in the private rented sector."
Landlord and agent legal requirements
Private landlords are required by law to register with their local authority under Part 8 of the Antisocial Behaviour (Scotland) Act 2004. They must meet a fit and proper person test prior to registration.
Failing to register is a criminal offence and on conviction may result in a penalty of up to £50k and a ban on letting properties of up to 5 years.
Registrations are valid for 3 years and after this period landlords need to renew to avoid being issued with an expired registration fee of £110 per property.