A unique modular construction of 249 homes for rent is to be brought to Greenwich in south London by Elements Europe, modular specialist with more than a decade's experience, in partnership with developer Essential Living. The Creekside Wharf development will be one of the first Build to Rent schemes constructed that way and one of the tallest modular blocks of flats consisting of 23 storeys.
Creekside Warf development
From February 2017 Elements Europe will send 632 modules to Creekside Warf development at a rate of 20 a week from their 200,000 sq ft factory in Shropshire. Each module will be completed within seven days, with 60 % of the total work carried out in a controlled factory environment using traditional construction methods. This will reduce the time spent on site by half to 32 weeks, since the modules can be completed while works begin onsite.
The steel framed modules will fit around the scheme's concrete core, giving the project lateral stability while the stacked modules carry its weight back to the ground, exactly the same as a conventional office block.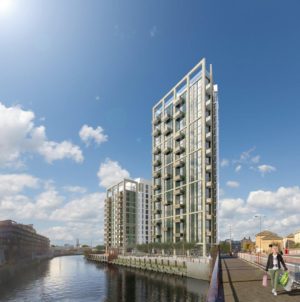 Offsite construction is seen as beneficial to many Build to Rent operators as it helps them to complete developments more quickly, which translates to rents being collected sooner, enhance energy efficiency and refurbish buildings more easily.
Ideally suited to Build to Rent
Russell Pedley, director of Assael Architecture said: "Offsite methods are ideally suited to Build to Rent, offering faster delivery, higher energy efficiency and complementing a longer term outlook not constrained by the absorption rates of build for sale."
Ray Theakston, construction director at Essential Living, said: "We're pleased to be able to appoint Elements, veterans of the modular world, on what promises to be an innovative scheme in Greenwich. Having the potential to collect rent six months earlier than a traditional build is appealing. This is achievable because you can commence work on the modules off site at the same time as constructing the traditional concrete core on site – which the steel-framed modules then plug into."
"Modular solutions have been used for many years throughout the hotel and student accommodation sectors and our entry into the Build to Rent market is just a natural progression, bringing homes forward sooner, reducing capital construction costs, and improving the quality and safety of delivery," said Simon Underwood, managing director at Elements Europe.
The Creekside Wharf Build to Rent development will be the first one in the UK to cater for families with ample storage, acoustic noise insulation and an onsite nursery for parents with young children.