The latest Citylets Quarterly Report (Q3 2013) made headline news yesterday: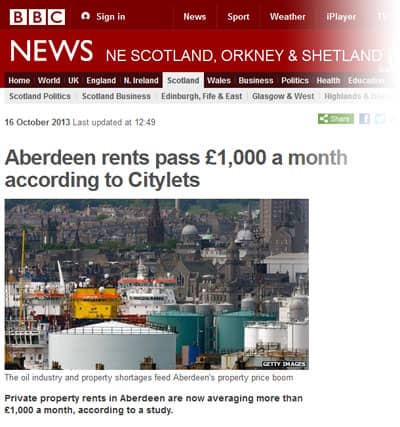 We revealed that prices for renting in Aberdeen have soared to record levels as a shortage of properties has fuelled a frenzied demand by eager tenants. Rental prices have broken the four figure barrier for the first time with average monthly rents reaching £1,002 – a 11.5% hike in a year. High levels of demand have also seen properties in Aberdeen typically stay on the market for less than two weeks before being snapped up.
The Citylets Quarterly Report – covering July-September – also shows that across Scotland, the rental sector continues to remain strong with the average rents £687, up 1.5% on Q3 in 2012 while interest in rental accommodation – based on website views – shows no sign of abating. While Aberdeen continues to be the most expensive place to rent in Scotland, the rise in prices between 2012-13 is startling. Aberdeen continues to set itself apart from the Scottish rental sector with supply shortages fuelling price hikes. Numbers of rental properties advertised in Aberdeen city centre have fallen by nearly 50% this summer, while the continual growth of the oil and gas industry has seen the numbers of people locating to the city grow.The shortage in quality rental stock is reflected by the fact that a typical property is only the market for less than two weeks before being snapped up – with more than half of Aberdeen properties let within a week of being advertised.
Large premium properties, favoured by executives and their families, have recorded the highest growth in rents. With limited new homes being built in the city, it seems fair to deduce that in future rent levels will continue their path upwards.
Lisa Brebner, Managing Director, Simpson Brebner Lettings in Aberdeen said: "We are seeing an unprecedented level of rent being achieved with properties almost having to be advertised with "offers over", similar to the selling market. "There is a critical shortage of executive stock in both family sized houses and city centre apartments. "It is clear the vibrancy of the oil and gas industry being reflected in the lettings market. If there is a negative impact if would be that the skills shortage in the industry is being compounded by a shortage of affordable housing in the private rental sector for people relocating to the area."