Average selling prices are continuing to increase year on year in east central Scotland, suggesting that buyer confidence hasn't been significantly impacted by Brexit.
Quarter 1 2019 saw a 3.4% increase YOY in average selling prices in east central Scotland, rising to £238,315 with Edinburgh experiencing a 2.1% increase to £255,280.
Three bedroom houses in Edinburgh's Corstorphine, Clermiston, South Gyle and East Craigs saw a significant increase in average selling prices, rising 16.7% YOY to £329,182. In contrast, Gilmerton and Liberton saw the largest decrease, down 16.9%, with average selling prices sitting at £222,580. This, however, was due to these areas having a larger volume of lower-value three bedroom houses being sold.
Median selling time has slowed
Sales volume in east central Scotland increased by 3.3% compared to Q1 2018 and the number of homes brought to the market in this quarter rose by 10.5%. The median selling time slightly slowed between January to March 2019 compared to the same time last year. The median selling time this quarter for east central Scotland was 30 days (5 days slower YOY). Edinburgh was 7 days slower YOY for Q1 with median selling time at 28 days.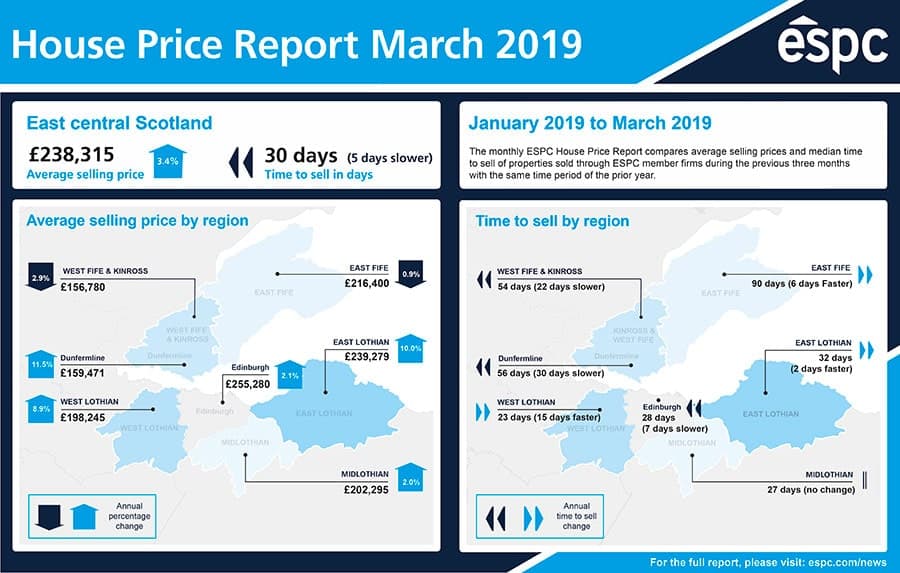 The quickest type of property to sell during Q1 2019 was 1 bedroom flats in Dalry, Gorgie, Slateford and Chesser with a median selling time of 15 days. These properties, as well as one bedroom flats in Meadowbank and Abbeyhill also recorded the highest percentage of Home Report valuation at 108.1%.
On average across east central Scotland, properties achieved a lower percentage of Home Report valuation, 102.3% during Q1 2019 compared to 103.4% the same time last year. Between January and March 2019, properties in Edinburgh achieved on average 103.5% of their Home Report valuation compared to 105.4% last year.
Sunshine in Leith
Two bedroom flats in Leith, followed by one bedroom flats in Leith experienced the highest sales volume during this period.
ESPC's Business Analyst, Jamie Fraser-Davidson, said: "Over the past three months, we have seen another reasonable increase in median selling times in east central Scotland, with homes selling five days slower than last year. Homes are also achieving a slightly lower percentage of Home Report valuation on average, while the number of sales with a closing date has dropped compared to last year."

The first three months of 2019 saw 24.8% of properties going to a closing date compared to 29.2% during the same period in 2018.
Mr Fraser-Davidson believes there is still a strong demand for first time buyer flats in the capital: "…with one bedroom flats in Dalry, Gorgie, Slateford and Chesser achieving both the shortest selling time, and the highest average percentage of Home Report valuation, along with one bedroom flats in Abbeyhill and Meadowbank."