Average asking prices for property and flats to rent in Edinburgh maintain their march upwards towards the £1000 mark, with rents up 6.6% on the year to stand at £972 at Q1 2016.
1 bed properties rose a full 9.5% to stand at £678 per month on average whilst 2 bed properties rose 5.5% to £870.


Now into a fourth year of consecutive quarterly rises, rents in the capital seem set to climb higher still, yet a slowdown in growth would not be surprising as affordability constraints are tested. Unlike Aberdeen, however, the Edinburgh economy is diversified against a slowdown in any single sector.
A QUESTION OF SUPPLY?
The demand for flats to rent in Edinburgh seems to show no signs of abaiting with average Time To Let for property standing at 23 days. It is widely agreed that rental supply in parts of Edinburgh could soon become an issue. Commenting on the market, John Forsyth of Murray & Currie said:
"With continued strong tenant demand, an inevitable shortage of supply in central areas is pushing up rents for 1 and 2 bed properties on average between 5% and 8%"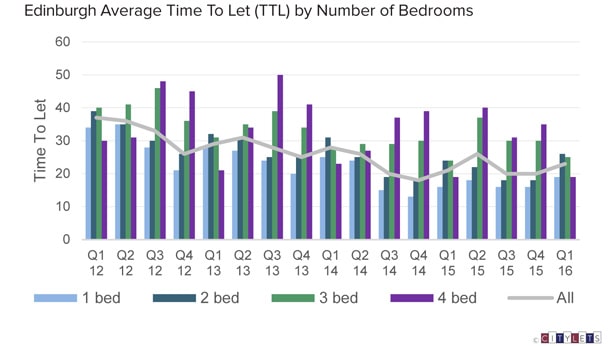 The Citylets Rental Index currently stands at a record high of 130.1 and looks set to continue rising throughout 2016.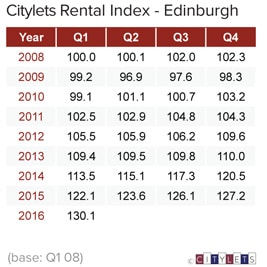 The full Citylets Quarterly Report on Scotland's rental prices can be found at  www.citylets.co.uk/research/reports/
Citylets reports are widely regarded as the most authoritative barometer of the Scottish PRS with expertise built over 10 years of publications. For enquiries, please contact research@citylets.co.uk