'Home is where the heart is'… or so we would like to think… however, for this poor prospective tenant, the property she was viewing had similar appeal and offerings as a stay at HMP.
It would be normal to expect a certain amount of reasonable, informal house rules when choosing to rent a room within someone's house. What you wouldn't perhaps expect is a document with 31 detailed stipulations handed to you during the viewing! Breaking any of the rules would lead to a fine (amount decided by the landlord), or possible eviction.
Laura Evelyn, an actress and proof-reader from London, was presented with the set of rules which included time restrictions on certain activities such as showers, which must be between the times of 6am and 10am or 7pm and 11pm and not for any longer than 15 minutes. Cooking must not exceed 30 minutes in the kitchen (doors were to be kept open during cooking or a fine would be added to that month's rent). Pork was banned completely. Dishes left in the sink would receive a flat fine of £15.
Two visitors per month…
The rules extended into friends or family visiting: "No visitors can stay over (unless discussed with me 2 weeks in advance and I will decide)" and visits were restricted to two per month. Any "noisy or rude people will get one chance to calm down".

The landlord made his opinions clear on anything within the property being abused, including the use of cleaning products: "This will be deducted and added to next month's rent and failing to pay will result in vacating premises immediately".
With regard to keeping the property clean, the landlord stated: "If you do NOT clean after yourself I will pay for a cleaner and she charges £15ph and I will get her in 2 hours a week and charge you at the end of the month, failing to pay will result in vacating the premises immediately".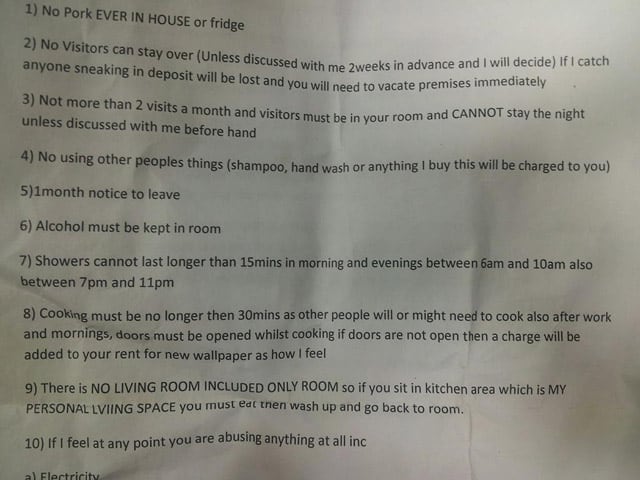 In contrast, the landlord concluded the document stating: "Hope you enjoy your read and enjoy your stay."
Unsurprisingly, Laura Evelyn chose not to live in that particular property.
Have you had any similar experiences yourself? We would be keen to hear your stories.