The Scottish PRS reached a new record high in Q2 2017 with average rents up 1.5% year on year (YOY) to £789 on average. Growth was materially underpinned by continued strong uplift in the key conurbations of Edinburgh (5.2%) and Glasgow (5%), where markets have reached respective all time highs, and with reduced drag from Aberdeen which continues to level off this quarter.
With evidence of reduced BTL instructions from some Surveyors, the need for new supply through Build To Rent and Mid Market Rent is once again evident in the continued fast rising rents in Scotland's largest cities. The recent 'reset' on Indyref2 til after Brexit will no doubt be welcomed by Institutional investors and Scotland finally seems set to develop a meaningful pipeline of projects  from planning to completion.
Commenting on the Scottish Market, Stuart Montgomery of Rettie & Co said: "Build to Rent is now emerging in Scotland as a key new residential use class, with over 2,500 units now in the pipeline in Edinburgh and Glasgow. This is driven by a rising rental market and socioeconomic changes, in the overall context of weak housing supply, creating opportunities for developers and investors."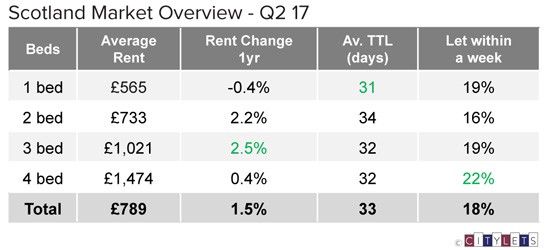 Aberdeen
Not only did Aberdeen's rate of decline ease further this quarter from minus 11.2% to minus 5.2%, positive growth was recorded for 4 bed properties- the first uplift for any property type in the city for 9 quarters. The average rent in Aberdeen is £788 per month, £1 below National average but £33 above Glasgow where speculation had mounted as to whether it would become Scotland's second priciest city. Results from Q3 will provide further insight but whilst Glasgow is set to continue to rise, Aberdeen may well yet remain above it.
"Stonehouse have seen an encouraging first half to the year with the appetite for people renting property continuing to rise. There is also evidence to suggest that the decrease in rental levels is now beginning to stabilise. Stock levels in Aberdeen remain high, however, generally a well presented and fairly priced property will let quickly." (Lisa Brebner of Stonehouse Lettings)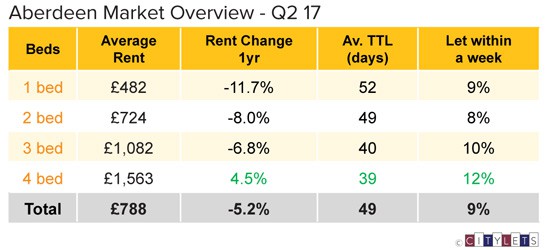 Edinburgh
Positive annual growth in the capital has been recorded every quarter now for the last 8 years. The average property to rent in Edinburgh now stands at £1037 per month and represents a new all time high. The Citylets Index for the city stands at 138.8, circa 4% growth per year since the start of 2008 but averaging around 6% since 2012. With the peak Q3 period now underway, it would surprising to report anything other than new heights next quarter. Once again, good news for landlords but concerning for tenants.
"Q2 has seen a marked increase in activity in the Edinburgh market – especially at the middle to upper end. Properties have let increasingly quickly with improved TTL and at higher rental levels than previously seen and there is an ever-increasing appetite from overseas investors seeing the investment market strengthen." (Jamie Kerr of Ben Property)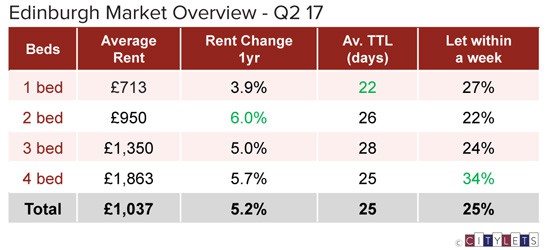 Glasgow
Glasgow has seen its Private Rental Sector acquire the same growth characteristic as its central belt neighbour with YOY gains regularly in the 4-5% region. Average rents in Glasgow now stand at a record £755 per month, up 5% on this time last year. All property types recorded positive gains with 4 bed properties rising 10.1% over the year, 29.3% over 3 years and a substantial 42.7% over 5. The average rate of growth for Glasgow citywide rents is 5% over the 1, 3 and 5 year term. For a city with deep roots in public sector housing, this marks a clear change for the region.
"Q2 has been very buoyant with many new instructions coming to the market and plenty of new tenants seeking to occupy them. All this is happening in a very busy time for all letting agents as we all prepare for the new Code of Practice and registration of letting agents before 31st Jan 2018. This will no doubt be an opportunity for diligent professional registered agents to look at increasing their management portfolios as unregistered agents will be seeking to offload their properties." (Colin Macmillan of Glasgow Property Letting)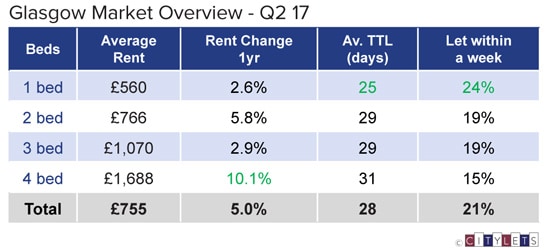 Dundee
Markets in other major locations around Scotland such as Dundee rose by 1% YOY. West Lothian, South Lanarkshire and Renfrewshire all rose by the same amount representing a deviation from previous quarters but, in the case of West Lothian in particular, unlikely to represent any systemic long term change. The outlook for Scotland's Private Rented Sector would seem to be one of continued growth in major urban areas.
"It has been notable of late there has been less interest in the flats we have been advertising at the lower end of the scale. The upper end of the market has been continually doing well, emphasizing location and the quality of property playing a major part in attracting tenants." (Robert Murray of Lickley Proctor Lettings)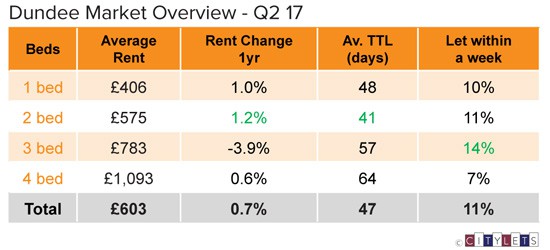 The full Citylets Quarterly Report on Scotland's rental prices can be found at:
https://www.citylets.co.uk/research/reports/property-rental-report-scotland-2017-q2/
A report PDF is available at:
https://www.citylets.co.uk/research/reports/pdf/Citylets-Quarterly-Report-Q2-2017.pdf
The Citylets Quarterly Report is widely regarded as the most authoritative barometer of the Scottish PRS with expertise built up over 11 years of publication. For enquiries, please contact us.