Residential prices for property and flats to rent in Glasgow continue their steady upward climb to £710 per month, up 4.6% on the year with 61% of residential properties letting within one month, according to our latest Quarterly Report.
It was one-bed properties that rose the fastest with an 8.8% annual growth, taking just 26 days to rent – well below the 35 day national average. Indeed Property to rent in Glasgow is generally moving at or below the national average with 2 bed properties taking 30 days to rent on average and up 4.5% to average £721 per month.

Of all Scotland's main cities where private sector renting is at its most prevalent, Glasgow trends most closely match those for the country as a whole. The movement in Glasgow rents is almost a mirror image of the National trend line 2008-2016. Whilst the rise may not be as steep as that for Edinburgh there is now a steady trajectory resembling that seen in the capital over the last 4 years.
Commenting on the latest market report, local Glasgow Letting Agent Graeme McEwan, Managing Director from Be-Rented (Part of Be-Home Group) said:
"Indicators are in place for a continuing escalation in rental prices as BTL and more recently retire-to-let & build-to-let outstrips our ability to quench investment thirst for quality new units."
And Robert Nixon, Head of Residential Letting from Speirs Gumley, noted:
"With the talk of rent capping and removal of the no fault ground you would have thought the market would slow with the uncertainty on how the changes will affect the sector. On the contrary, comparing Q1 2015 to Q1 2016 we have seen new landlord instructions increase by over 50%."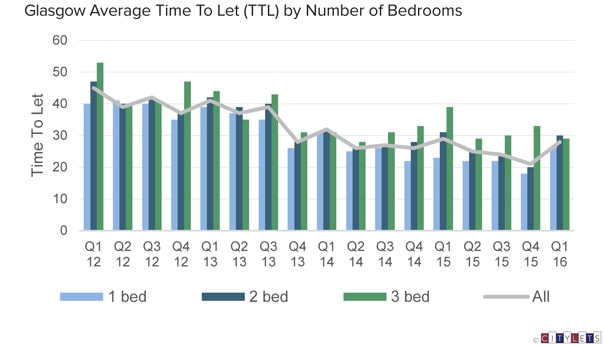 The Citylets Rental Index for Glasgow currently stands at an all time high of 125.2, up from its Q1 2008 base at an average of just over 3% per year.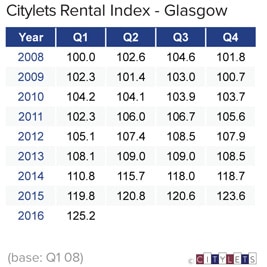 The full Citylets Quarterly Report on Scotland's rental prices can be found at  www.citylets.co.uk/research/reports/
Citylets reports are widely regarded as the most authoritative barometer of the Scottish PRS with expertise built over 10 years of publications. For enquiries, please contact research@citylets.co.uk