Whilst Letting Agents around the country are busy getting to grips with the new legislation and regulation, the latest Citylets market report for Q4 2017 shows that the rental landscape has also experienced new milestones. The average rental in Glasgow is now higher than the national average for the first time having tracked just below for several years. A continued slowdown in the rate of growth in the central belt coupled with continued falls, albeit stabilising, in Aberdeen saw the national average fall modestly at 0.7% year on year (YOY) to £734 per month. The average property to rent in Glasgow now lets at £742 per month. Markets in the central belt remain buoyant overall with reduced rates of growth perhaps inevitable set against the uniquely steep rises in recent years.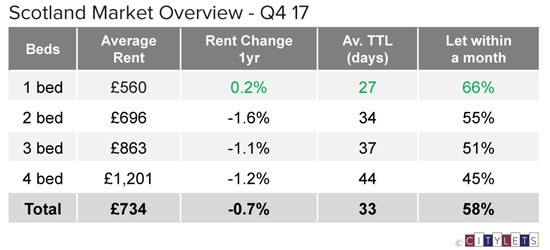 Glasgow
The average property to rent in Glasgow at £742 per month became more expensive than the national average in Q4 2017 representing a significant milestone for the rental sector in Scotland's largest city. At £8 above the Scottish average rents in Glasgow are now just £13 below Aberdeen and closing (£27 as at Q3 2017 and £33 as at Q2 2017). Whilst this news may only serve to stiffen the resolve in some quarters to introduce rent controls, it must be noted that these figures pertain only to the open market. There is at this time no data on the behaviour of the 'closed market' i.e. mid tenancy rent rises. Indeed rental growth seems to have fallen to a new lower rate (of c2%) and it will be interesting to see what happens now in 2018.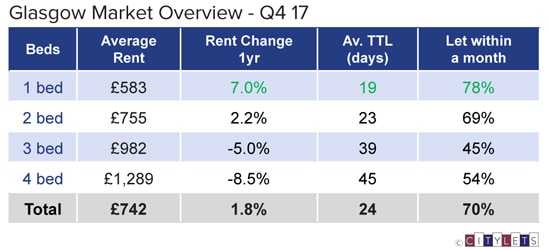 Aberdeen
The average property to lease in Aberdeen is now £755 per month, down 4.3% on the previous year but representing further improvement on last quarter. Whilst 1, 2 & 3 bed properties fell, 4 bed properties rose 5.6% YOY. Rents remain above the national average and typically take 50 days to rent. After a tumultuous period for the city, average rents have fallen around 4% on average on the five year view. It would be fair to believe that the market will fully level off this year.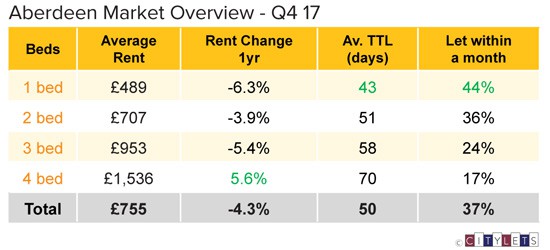 Edinburgh
The figures for Edinburgh Q4 2017 suggest that the annual rate of growth for the capital has found a new level at around 3%. This is perhaps unsurprising given the sustained period of c5-6% growth recorded in previous quarters. Average property to rent in Edinburgh rose 3.3% YOY to £1016 per month. Rents in Edinburgh are up c5% on average on the 5 year view and c4% on the 3 year.
The main 1 & 2 bed markets rose at 3.5% and 2.7% YOY respectively with 1 beds typically taking just 17 days to let even in the slowest period of the year. Subsequent reports will confirm either way whether growth has indeed found a reduced level and will be keenly awaited by both Tenants and Landlords alike.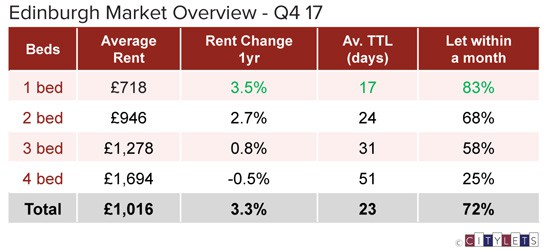 Dundee/West Lothian/South Lanarkshire/Renfrewshire
Dundee experienced a hefty YOY fall at the end of 2017 driven down by steep falls in the larger 3 and 4 bed properties. Average rents fell 7.5% to £552 with only 1 bed rentals posting positive growth at 0.3%. In West Lothian, 4 bed properties also fell heavily however all other main markets rose providing for sustained growth in one of Edinburgh's main computer belts. Rents in South Lanarkshire and Renfrewshire both edged higher at 3.7% and 1.9% respectively.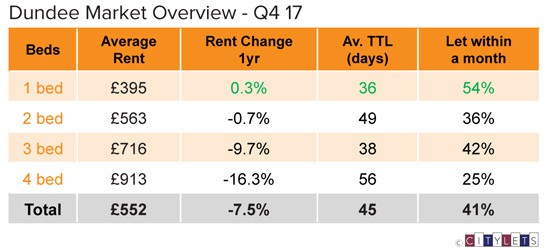 The full Citylets Quarterly Report on Scotland's rental prices can be found at:
https://www.citylets.co.uk/research/reports/property-rental-report-scotland-2017-q4/
A report PDF is available at:
https://www.citylets.co.uk/research/reports/pdf/Citylets-Quarterly-Report-Q4-2017.pdf
The Citylets Quarterly Report is widely regarded as the most authoritative barometer of the Scottish PRS with expertise built up over 11 years of publication. For enquiries, please contact us.