Works have begun on Legal & General's first purpose built apartments for the Scottish Private Rented Sector.
Legal & General have provided funds for Drum Property Group to construct two 18 storey towers, consisting of 324 flats within Glasgow's new Buchanan Wharf waterside regeneration area, one of Scotland's biggest ever construction projects. The site once complete will comprise of a new Northern Europe hub of Barclays Bank, prime Grade A office space, residential accommodation, local amenities and landscaped public spaces, all covering more than a million square feet.
Buchanan Wharf apartments
Only walking distance from Glasgow Central Station and the International Financial Services District, the Buchanan Wharf flats will be overlooking the River Clyde. Their residents will benefit from a 4,250 sq ft communal roof terrace, dining space and lounge, gym and games room.
Buchanan Wharf "has quickly established itself as one of Scotland's largest and most important commercial and residential development sites," said Graeme Bone, Group Managing Director of Drum Property Group.
He added: "With prime office space plus an exciting mix of homes, local amenities and open public spaces, Buchanan Wharf will be a stimulating and attractive environment in which to work, live and to visit."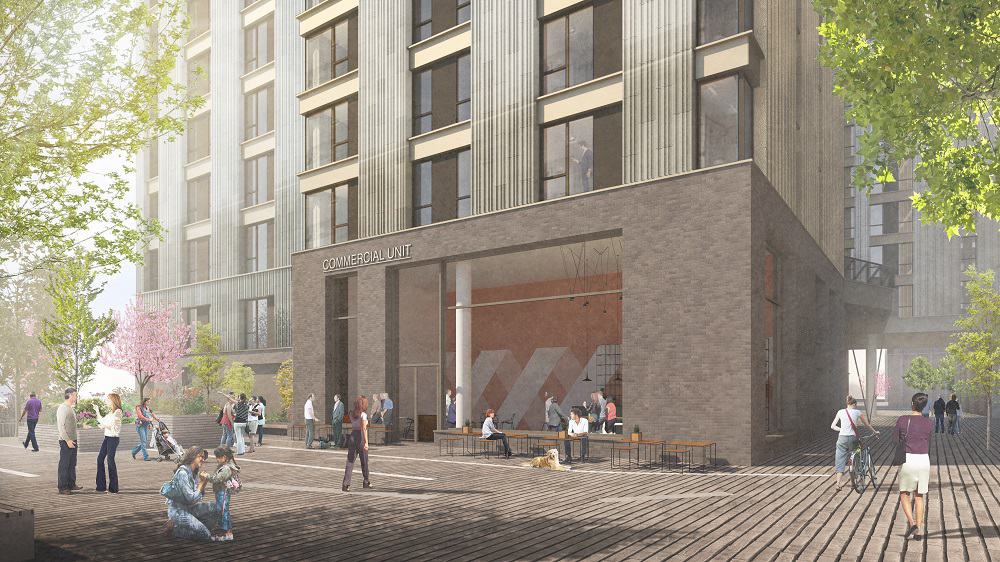 Paul Miller, MD Principal Investing at Legal & General Capital, commented: "We are delighted to be making our first Build to Rent investment in Scotland as part of our ambition to tackle the housing shortage all across the UK."
He continued: "Scotland, and Glasgow in particular, has been a key target for Legal & General as part of our Future Cities initiative. We are excited to be bringing a long term sustainable rental scheme to the area to meet the demands of this vibrant and fast-growing city."
Severe lack of homes in Glasgow
Over the last 10 years, Glasgow has suffered from particularly low levels of residential developments compared with other major cities. According to Glasgow City Council, in 2017 only 517 homes were built, falling significantly short of the 2,500 new residential units needed per annum.

"Glasgow has seen very low levels of residential development over the last decade. This acute supply and demand imbalance has made it an important target for us, demonstrating our commitment to quality asset selection, with sites cherry-picked by assessing needs-based demand to provide long-term, stabilised cashflows for investors" – said Dan Batterton, Head of Build to Rent at LGIM Real Assets, who raised additional pension fund capital to finalise the site's purchase by co-investors Legal & General and PGGM.
Mr Batterton added: "We are delighted to be breaking ground on our first BTR development in Scotland. Buchanan Wharf is an exciting scheme, set to have a significant positive socio-economic impact on this area of Glasgow."
Buchanan Wharf will bring Legal & General's Build to Rent portfolio to 3,700 homes across the UK, with further 6,000 in planning, development or operation anticipated by the end of 2019.