With most of Scotland's large urban markets sitting at or near all time highs, it will be unsurprising to note that the average property to rent in Scotland recorded it's highest figure to date in Q2 2018 at £799 per month. Scotland's overall annual rate of growth, however, remains low at 1.3%. Larger properties, in particular 4 bed, continued to post significant rises in many areas in line with the trend of increasing numbers of families taking residence in Scotland's PRS.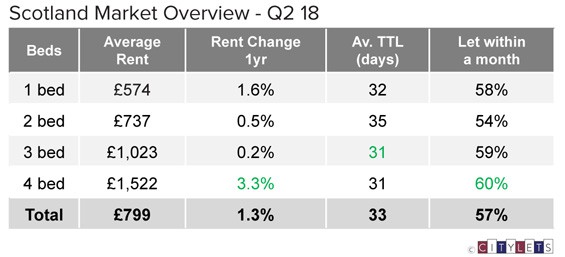 Edinburgh
Rents in Edinburgh reached another high this quarter, up 4.8% year on year (YOY) to £1087 per month and represents a spike in annual growth from the more sanguine levels of circa 3% seen over the last year. It is likely further highs will be reported at Q3 2018 as we enter peak season given rents have risen 9 times out of the last 10 between spring and summer periods.
Securing a rental in Edinburgh remains competitive with the market ticking along at pace with an average Time To Let (TTL) of 26 days, just 1 day more than Q2 2017.
All main Edinburgh markets posted strong increases in Q2 2018 on the previous year with 4 bed properties outperforming the city averages rising a significant 6.8% YOY and taking just 20 days to let, down 5 on last year.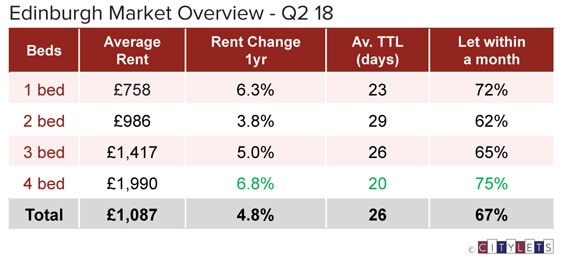 Glasgow
The Glasgow rental market continues to operate to a steady trajectory with both average rents and TTLs almost unchanged on last year. The average property in Glasgow now rents at £763 per month, up just 1.1% YOY, and takes 27 days to let. Overall the PRS in Scotland's largest city appears well balanced however 1 bed properties recorded significant annual gains at 4.5%. The continued rise of Glasgow, albeit slight, coupled with Aberdeen's continued falls has resulted in a clear gap opening up (£23) between the two cities having surpassed the granite city average for the first time last quarter.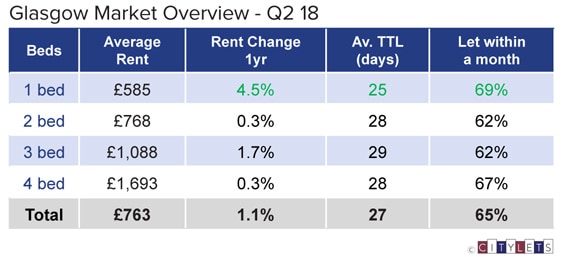 Aberdeen
Rents in Aberdeen continued to fall in Q2 2018 to average £740, down 6.1% on Q2 2017 and broadly in line with trend over the past 18 months. Investors may have hoped for a leveling off on rents which remains illusive however it is noteworthy that 1 bed properties posted falls of just 2.7% YOY with a TTL 4 days faster at 48 days. Property to rent in Aberdeen is now £59 per month below the national average which was boosted by above trend rises in Edinburgh in particular.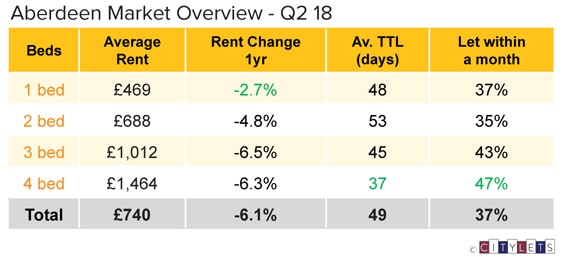 Dundee/West Lothian/South Lanarkshire/Renfrewshire
Other major urban areas around Scotland also posted positive annual growth of between 2% and 4%. Dundee saw rises for all property types (1-4 beds) with the city average up 2.5% on last year to stand at £618 per month. 1 bed properties outperformed the rest of the local market up 4.9% YOY and recording the fastest TTL at 44 days, an improvement of 4 days on Q2 2017. West Lothian averaged a 4.1% rise and there were also increases for South Lanarkshire (3.8%) and Renfrewshire (2.1%) where 4 bed properties recorded double digit gains at 14% and 11.3% respectively.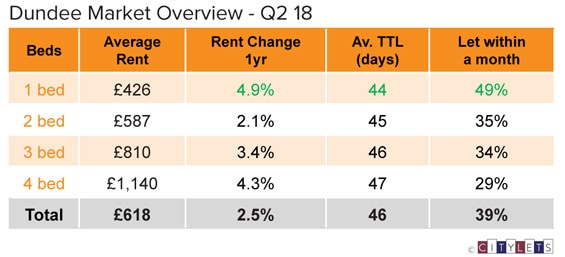 The full Citylets Quarterly Report on Scotland's rental prices can be found at:
https://www.citylets.co.uk/research/reports/property-rental-report-scotland-2018-q2/
A report PDF is available at:
https://www.citylets.co.uk/research/reports/pdf/Citylets-Quarterly-Report-Q2-2018.pdf
The Citylets Quarterly Report is widely regarded as the most authoritative barometer of the Scottish PRS with expertise built up over 12 years of publication. For enquiries, please contact us.