The ESPC August to October 2018 House Report saw east central Scotland experience a significant increase of 10.9% in the number of properties coming to the market compared to the same period in 2017. Edinburgh in particular, saw a 5.6% increase year on year (YOY). This is an indication of sellers regaining confidence in the market which is reassuring for buyers as a shortage of properties has been limiting the market in recent years.
Jamie Fraser-Davidson, Business Analyst at ESPC, stated: "It is encouraging to see a 10.9% increase in the number of properties coming to market over the last three months. This is a positive sign for buyers and indicates sellers' confidence in the current market conditions, likely due to the continued trends of increasing average selling prices, short selling times and properties exceeding their Home Report valuation."
"As we get further into the winter months and closer to Brexit, it will be interesting to monitor the impact on both sellers' confidence and demand from buyers."
The average selling price across east central Scotland rose by 6.1% YOY, from £232,814 to £246,927. Edinburgh experienced a 6.8% increase YOY with average selling prices now standing at £267,451.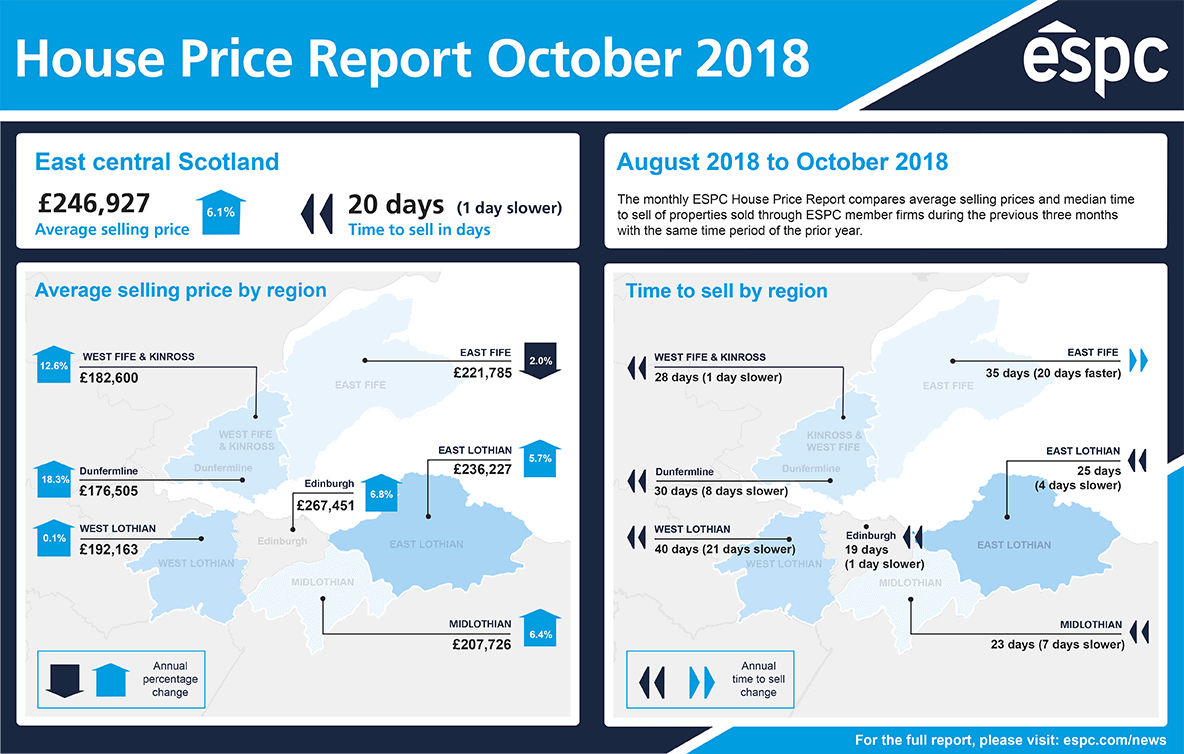 Three bedroom houses in Edinburgh and Lothians
The capital's Blackhall, Davidson Mains, Silverknowes, Cramond, Barnton and Cammo areas saw the largest increase YOY on their 3 bedroom houses which increased by 19.4% to £407,537. Three bedroom houses in Currie, Balerno and Juniper Green experienced a decrease of 8.5% YOY with average selling prices dropping to £288,948. However, it must be noted that the average three bedroom house in these areas of West Edinburgh are still achieving 103.6% of their Home Report valuation.
The median selling time for properties in east central Scotland between August and October was 20 days which was one day slower than the same period last year. This was also the case for properties in Edinburgh which were taking 19 days on average to sell.
One and two bedroom properties
The areas where two bedroom properties experienced the least amount of time to sell (a median selling time of 14 days), were the New Town, West End, Portobello and Joppa and the same for one bedroom flats in the areas of Dalry, Gorgie, Slateford, Chesser, Abbeyhill and Meadowbank.
These short selling times of one bedroom flats suggest a continued strong demand from first time buyers and buy-to-let investors as these areas are popular with those who wish to rent or establish a foot on the property ladder.

Fraser-Davidson also commented: "It seems the strong demand for homes in the city from first time buyers and buy-to-let investors continues. One bedroom flats in areas popular for first time buyers and renters such as Dalry, Abbeyhill and Leith Walk have seen notable year on year increases in average selling prices. Plus, one bedroom flats in these areas are, on average, achieving above Home Report valuation and we are generally still seeing short selling times for these properties."
The property types that sold the most between August and October were two bedroom flats in Leith, followed by three bedroom houses in Dunfermline and one bedroom flats in Leith.
The amount of homes sold during this quarter decreased by 0.4% YOY. However, the decrease is less pronounced that in previous months, which is most likely due to an increasing number of homes coming to the market over summer and early autumn.