Sex in exchange for rent is being advertised in Edinburgh and other parts of Scotland, according to recent reports. Adverts offering women no charge for rent or bills in exchange for other 'extras' are being placed on websites such as Craigslist (a free listings website containing a variety of classified adverts).
A 27 year old 'landlord' from Edinburgh recently advertised on Craigslist offering free accommodation to females, "This offer isn't open to guys." Further into the advert he mentions: "Instead of taking any money we can discuss another way you should show me your appreciation."
Naughty Streak
A Clydebank man on Craigslist, who described himself as 'sub male', requested favours instead of rent and made suggestions of how the tenant could show their appreciation: "I would appreciate things such as giving naughty flashes of your body, always teasing me, leaving your shavings whenever you shave your legs etc." He also stated that sex does not need to be included in the arrangement "unless of course it's something that you would like."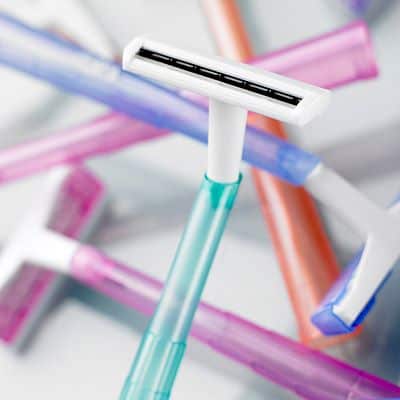 Some adverts are blatant, others more subtle such as this ad which makes it clear that there is no objection to the (female) tenant being an escort: "I am looking for immodest flatmate to share modern apartment." He states: "You will have your own bathroom and spacious double bedroom. I don't mind if you are an escort."
The advert does not stipulate any rental amount whatsoever.
Another offered his Arbroath accommodation in return for "friendship, help with cleaning….romance if we have good chemistry."
Legal Stance
These adverts cut a legal fine line. On one hand, it can be viewed as exploitation but on the other the voluntary nature of these 'rental arrangements' makes it difficult for police to take action as an offence hasn't actually been committed.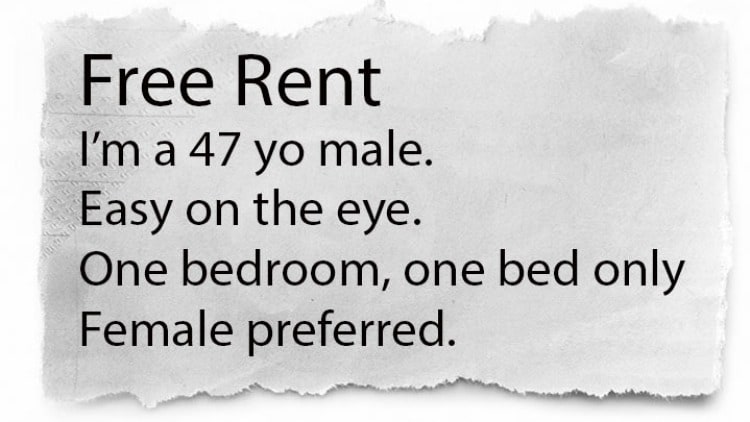 A spokesperson for Police Scotland stated: "People should always be careful in replying to adverts of this nature. If a person feels they are being exploited or coerced they should contact the police."
Andrew Wallis from Unseen, the anti-slavery charity pointed out: "I think these adverts go as close to the edge of the law that they possibly can without breaking the law."
"They would argue that they have chosen voluntarily to enter that situation."
"The trouble is when you have a vulnerable person who then becomes exploited, the concept of choice soon disappears."
"Pop into my room…"
A BBC investigation discovered adverts where the landlord was quite unashamedly open about the intended rental arrangements: "I was thinking once a week, something like that, I'm happy as long as there's sex involved." Another detailed in his advert: "You agree a couple of times a week, pop into my room sort of thing, but as far as the apartment is concerned, it's like completely as if we're flatmates. It's all the bills, the rent, free."
Zero Tolerance Scotland's Co-Director, Liz Ely commented: "We will continue to see men abusing their position in this way until concrete steps have been taken to solve the housing crisis. To prevent men's violence against women, we also need secure an affordable housing."
Chief Executive of the Scottish Association of Landlords (SAL), John Blackwood said: "SAL would in no way condone any practice by landlords which might exploit vulnerable people. The overwhelming majority of landlords in Scotland are responsible."

However, a landlord who felt there was no harm or issue in sex for rental arrangements stated: "Everyone goes into it with their eyes wide open." He believed it was "win-win" for both parties.
Scottish Government Response
Scotland's First Minister, shocked by the allegations taking place in her nation, informed the media that Kevin Stewart, Scotland's Housing Minister has written to Craigslist requesting that something is done regarding the adverts. Nicola Sturgeon also stated: "I was extremely concerned – horrified, actually."  She further explained: "We are already taking action to tackle such issues through the implementation of Equally Safe, which is our strategy to tackle any violence against women and girls."
"We are also taking action to improve the stability of and access to housing for everyone, and action to tackle poverty and inequality that can so often render people vulnerable to being exploited in such a way. Let me assure the member we will look carefully at what action we can take, further to what we are already doing, across all those areas" stated Sturgeon.
Let's hear from you…..
What are your thoughts on these 'rental arrangements'? Have you ever experienced any of the situations described in this article? We've never had such an ad on our site and would not allow it but we are keen to hear your views.