Strong growth in Edinburgh and Glasgow continues to propel average Scottish rents upwards with chronic imbalance between supply and demand setting in within the central belt.
The latest Citylets Quarterly Report to Q3 2016 shows average rents in Edinburgh have broken the £1000 per month mark for the first time and growth in Glasgow has accelerated from last quarter at 7.2%. And there is little sign of things changing any time soon.
Meanwhile, Aberdeen has begun to level off with falling TLLs and a falling rate of year on year (YOY) decline.
Indeed, according to the latest Scottish Household survey, the Scottish PRS now represents 14% of all households numbering 350 000, up threefold since the survey's inception in 1999 and making private rented accommodation the 2nd largest tenure behind owner occupied.
41% of 16-34 year olds now call the PRS home and it is the dominant tenure for that demographic, on track to reach 50% by 2020.
Scotland
Nationally, rents have risen 2.4% YOY to average £775 per month. Strong gains in the central belt are tempered by flat to negative growth elsewhere resulting in modest 2.4% growth nationally. 61% of all properties are now let within a month and with an average TTL of 30 days.
Commenting on the Scottish Market, Ian Lawson of Braemore Sales and Lettings said:
"Investor activity and confidence in Scotland's property market remains high as we enter Q4. The combination of high rental values, prospects for rental income growth, in addition to capital appreciation further fuelled by the significant housing shortage, makes a compelling argument for investors to remain in the Buy to Let arena."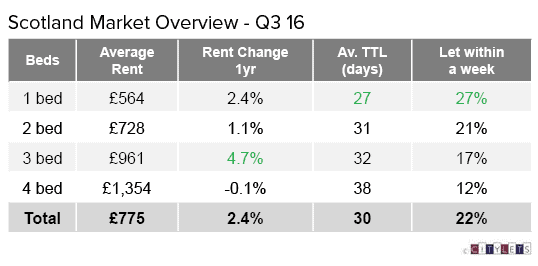 Edinburgh
As expected, Edinburgh rents have now surpassed the £1000 per month average mark to stand at £1014, with growth of 7.6% over the year. Whilst this will no doubt represent good news for landlords with Edinburgh property, it will be concerning for tenants to see sustained growth at these levels. Indeed they may also find it increasingly difficult to secure their preferred property given the pace of the current market for popular 1 and 2 bed properties, letting at 14 and 20 days respectively. 41% of 1 bed properties in Edinburgh now let within a week.
"As summer draws to a close, so does traditionally the busiest time for rentals. Throughout Q3 we have seen the demand for rental properties dramatically exceed the supply. Fierce competition from tenants has led to an increase in rents and decrease in total time to let, all of which is positive news for landlords. This trend looks to continue and we anticipate another strong quarter in the rental market." (Nicky Lloyd of ESPC Lettings)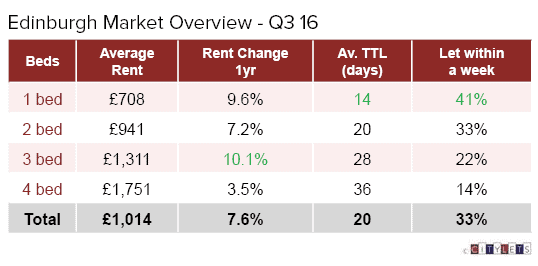 Glasgow
The Glasgow rental market has been steadily rising over the last 10 quarters, however that growth has now accelerated to 7.2% YOY compared to c5% recorded in the last 2 quarters. Average rents in Glasgow are now £733 per month and 70% of all Glasgow rentals now let within a month. Rents in Scotland's largest city are now following a similar trajectory to Edinburgh and collectively, along with other central belt counties such as West Lothian, are driving the engine of growth in the Scottish PRS.
"The media paints a doom and gloom picture of the property market post Brexit, however, we have seen no signs of slowing, if anything at Cairn we have seen an increase in sales and letting. HMO investment as ever is in popular demand when the second year students tire of living in large purpose built student accommodation." (David Rowand of Cairn Letting & Estate Agency)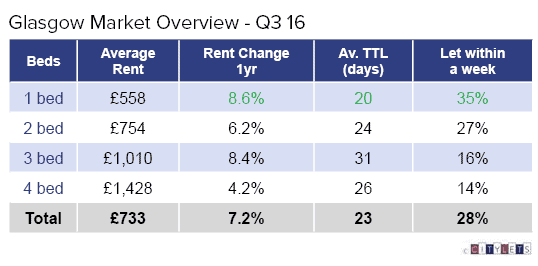 Aberdeen
Q3 2016 has seen both an easing annualized rate of decline for average rents and a reduction in TTLs, both indications that the Aberdeen rental market is starting to level off. Average rents in the city recorded a 16.7% drop YOY, less that the 20% recorded at the previous 2 quarters, to stand at £829 per month and representing a 25% fall from the £1110 figure recorded at Q4 2014 market peak. Average TTLs are now 44 days and whilst 10 days longer than a year ago, this represents a fall from 47 days at Q2 2016 and 53 days as at Q1 2016.
"We have seen a slight stabilisation in the market in terms of rental price. In most cases, significant decreases were experienced by landlords in the first two quarters but we are now seeing this level out with rental prices now in line with other cities as well as being more favourable for tenants who were previously priced out of the market. It is very encouraging to see that time to let has improved with properties moving quicker than before over the busy summer months." (Matt Pullinger of Northwood)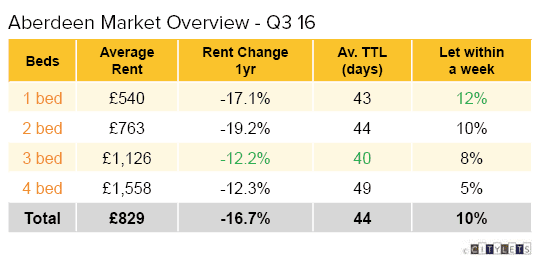 Elsewhere to the south, Dundee posted a 2.8% YOY gain as at Q3 2016 with average rents now at £590 per month and taking 52 days on average to let. West Lothian and South Lanarkshire both recorded strong YOY growth at 5% and 5.8% respectively and with falling average TTLs of 32 days and 36 days.
"Lickley Proctor Lettings have had a busy summer period – hopefully this bodes well for the third quarter. It is noticeable that the upper end of the market has been going extremely well. As always, location and state of modernity of properties play a big part in the 'letability'." (Robert Murray of Lickley Proctor Lettings)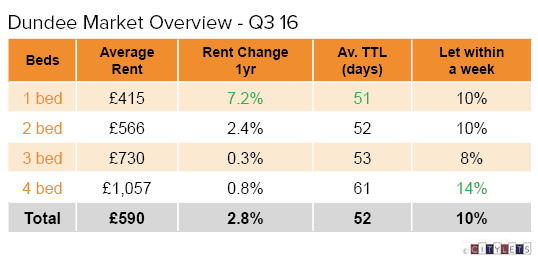 The full Citylets Quarterly Report on Scotland's rental prices can be found at https://www.citylets.co.uk/research/reports/pdf/Citylets-Quarterly-Report-Q3-16.pdf?ref=reports
The Citylets Quarterly Report is widely regarded as the most authoritative barometer of the Scottish PRS with expertise built up over 10 years of publications. For enquiries, please contact us.