Energy Performance Certificate (EPC) is required whenever a property is built or put on the market for either sale or rent, with some exceptions (for example if a resident landlord rents out a room), and the Scottish law requires the certificate being displayed in the property.
The EPC rating ranges from A (most efficient) to G (least efficient), with an average national score being low D/high E.
From April 2018 new energy efficiency regulations come into force in England and Wales, making it unlawful for landlords to grant a new lease for properties with an EPC rating below E (unless the property is exempt). Will Scotland follow in time? Regardless, it seems like a good idea to review your property's current EPC rating and see what improvements can be made. Higher EPC score not only translates to a higher value of property but also makes it more attractive to prospective tenants by reducing the cost of running it.
When was the last time you were issued with the EPC?
The certificate has to be produced by an approved assessor who will survey your property and establish the current rating. Once issued, the EPC is valid for 10 years.
Give the EPC a boost
There are various ways of improving your property's energy efficiency and ensuring you receive the best possible rating. The good news is they do not always come at high expense, although the more sophisticated and significant alteration, the higher the associated cost. Therefore, planning ahead can help to spread the cost as well as ensure constructors are available to carry out the work.
Improvements to consider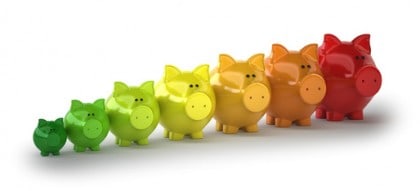 Lighting
One of the quickest and most effective fixes to the low EPC rating is introducing energy saving light bulbs. At a relatively low expense you can replace existing halogen or other inefficient lighting with Low Energy Lighting (LELs), Compact Fluorescent Lights (CFL) or Light Emitting Diodes (LEDs) and see how much difference this simple tweak can make.
Double glazing & draught proofing
Another inexpensive way of increasing your property's energy efficiency is identifying draughty areas and introducing excluders, fillers, curtains or other measurements that will prevent the cold air circulating in your home. Similarly, installing double glazed windows in place of single glazed units, though more expensive, will make a world of difference to the EPC rating and bump the property's value up too.
Central heating system & heating controls
If you have available resources, why not consider replacing the aging boiler with a condensing one? Not only will it have a positive effect on your property's value but also it will significantly reduce the cost of running the property, saving your tenants hundreds of pounds yearly. If you, however, are not in a position to go ahead with this major investment, you can always upgrade heating controls by introducing a boiler programmer, room thermostats and Thermostatic Radiator Valves (TRVs). They require a relatively small expenditure but can make a big difference.
Insulation
It is estimated that a house can lose up to 33% of its heat through the roof if it is not or badly insulated. Therefore, home insulation is the best possible way to prevent the heat loss and achieve the highest energy efficiency score.
Under the government recommendations, loft insulation should be at least 270mm thick. Also it is important that any cavity walls are insulated too.
There are various grants offered by the government that cover a substantial proportion of the costs so check if your property qualifies.
Regardless of the budget, there are ways to improve your property's energy efficiency rating and increase its capacity to rent at the same time.