The Scottish PRS continues to prove very robust to geopolitical change as it plots a predictable path in Q1 2017. Competing forces from the central belt and Aberdeen result in a (near) zero sum game at just 0.1% YOY national growth.
Rents in Aberdeen have indeed fallen to national average, as suggested in our last report, with both now standing at exactly £768 per month.
Growth in the central belt returned to familiar territory at 4-5% though slightly below the 5-7% range of recent quarters and possibly representing the new level for the region.
The latest Citylets Report to Q1 2017 is now available.
Commenting on the Scottish Market, Adrian Sangster of Aberdein Considine said:
"It's been a promising start to 2017. Glasgow remains strong, especially in the West End where demand continues to outstrip supply. It's business as usual in Edinburgh with low time-to-let figures and rents remaining high. Aberdeen, experienced a good start of the year with increased lets, and a feeling of positivity which has been missing for about 18 months. Our Perth office has also reported a busy qtr with particular demand for properties out-with the city centre."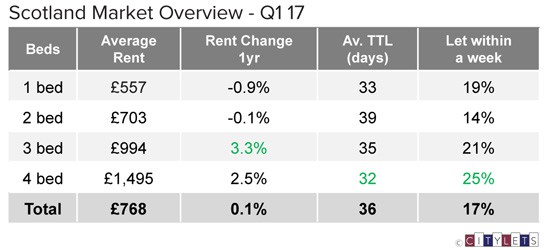 Edinburgh
Having fallen below £1000 in Q4, rents in Edinburgh broke back through the £1000 mark to reach a new all time high of £1023 per month- up 5.2% on last year but below the 3 & 5 year trend of circa 6%. The larger 3 & 4 bed properties showed impressive TTL figures with 38% of 4 beds renting within a week and 83% within a month, figures underpinned by a frenetic student market which begins in the capital early in the new year.
"The first quarter of 2017 has been very active. We have enjoyed high numbers of qualified applicants for apartments and houses who are keen to enjoy all the benefits of living in arguably Europe's most exciting city. The demand to be within striking distance of Edinburgh city centre is being fuelled by the constant media buzz of just how special a place Edinburgh is to live." (Steven Currie of Murray & Currie)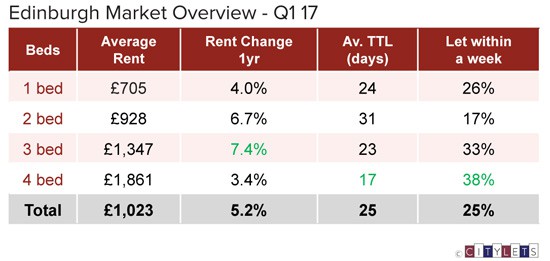 Glasgow
Rents in Scotland's largest city continue to climb and, with just £28 between them, Glasgow is now fully expected to overtake Aberdeen in Q2 or Q3 of 2017. It's unlikely anyone would have practiced that even 3 years ago.
The average property in Glasgow now lets at £740 per month, an all time high for the city and growth of 4.2% over the last year. TTLs are broadly the same as Q1 2016 at 30 days. It is likely rents will keep climbing through the busy middle half of the year.
"Q1 of 2017 has seen Glasgow's buoyant rental market off to a flying start. Areas such as Glasgow's vibrant West End are seeing record rental and sales values achieved so far in 2017 with Shawlands also riding the crest of this wave of strong market activity. More encouragingly, new landlords are still entering the market in strong numbers as property remains a sound investment, if made in the right location."  (Fiona Hindshaw of Clyde Property)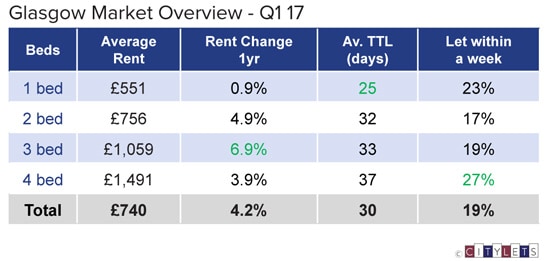 Aberdeen
At minus 11.2%, growth in Aberdeen has again improved for the 3rd consecutive quarter and seems on track to level out towards the end of the year. Average rents in the granite city now stand at £768 per month with Time To Lets virtually unchanged on Q1 2016 at 54 days. Whilst this is good news for Aberdeen landlords, it is now almost certain that it will leave Aberdeen a less expensive place to rent than Glasgow… though bets will soon be on for how long.
"Confidence in the market is building as talk of increased activity in the Aberdeen area circulates. The total property stock is not going down yet so rents are still very flexible, but sensibly priced, good quality properties in popular areas can move quickly. Talk of Brexit, 'Scoxit' and general political uncertainty doesn't help, but in the Granite City its oil price stability that is key to future investment in the area and ultimately drives property demand." (Sarah Harley of Margaret Duffus Leasing)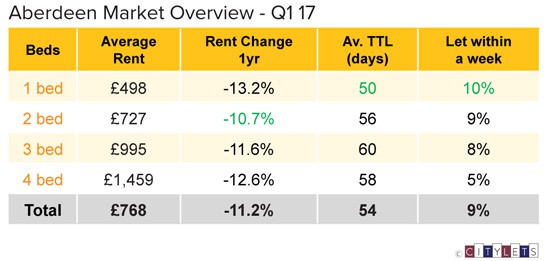 Dundee & West Lothian
Rents in Dundee rose on Q4 2016 but are down slightly YOY at minus 1.6%, £610 per month on average. TTLs were again down 4 days over the year at 48 days. West Lothian posted strong growth at 5.3% YOY to £656 per month and the region is now one of the most consistent risers in the country, no doubt influenced by its close proximity and commutable distance from Edinburgh.
"In the first quarter of 2017 Lickley Proctor Lettings have noticed there has been more interest from prospective tenants in those properties which are in recognised good residential areas and at the higher end of the market. It has been encouraging that there have been a few portfolios of rental properties sold recently which have been readily purchased by investors and we have also taken enquiries from new landlords which indicates that Dundee is still regarded as a good market for investing in the Private Rental Sector." (Robert Murray of Lickley Proctor Lettings)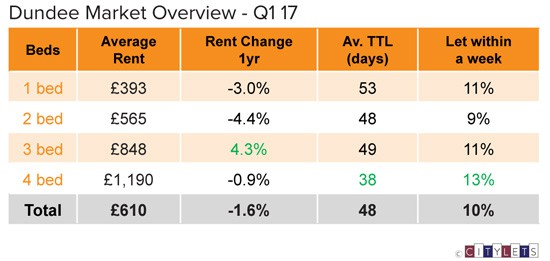 Looking ahead, it is likely that National growth will move on from its current zero sum game status as drag from Aberdeen abaits and growth in the central belt continues.
The full Citylets Quarterly Report on Scotland's rental prices can be found at https://www.citylets.co.uk/research/reports/pdf/Citylets-Quarterly-Report-Q1-17.pdf
The Citylets Quarterly Report is widely regarded as the most authoritative barometer of the Scottish PRS with expertise built up over 10 years of publications. For enquiries, please contact us.