Citylets is delighted to be sponsoring The Agency Business Conference being held today in Glasgow.
Convened by the SAL Council of Letting Agents (CLA) and now in its 5th year, this key event is a focus for Scottish letting agents as the Industry hurtles towards Regulation and a new Tenancy regime in 2018.
As always, delegates will hear from experts across a broad spectrum of Industry and Government including the Scottish Housing Minister, Kevin Stewart. Preparing for the new legislation is a prominent theme this year as parties seek to work together.
Additionally, a further stated aim has been the commitment to the enforcement of the regulations in order to to drive out the rogue element in the sector. Without the requisite enforcement, regulations achieve little in respect of their aim.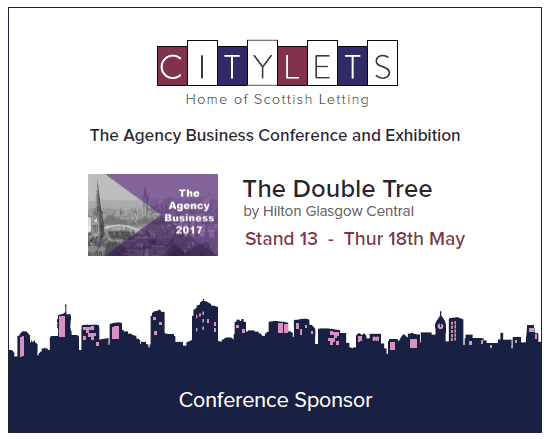 Commenting on the sponsorship Citylets MD Thomas Ashdown said:
"We are delighted to be involved with The Agency Business Conference again at this pivotal time for the Industry. 2018 is fast approaching and the CLA continue to guide and inform its members as Regulation nears."
With over 400 agent members, the CLA is the largest professional organisation for Scotland's Letting agents.
For more information about the event or to book you place please visit: https://www.scottishlandlords.com/Events/EventDetail.aspx?ProductID=746