We've all heard of fake news, in no small part due to POTUS Trump labelling large swathes of the media as such in recent days, but have you heard of fake landlords?
A recent survey of 1,000 landlords and tenants by landlord checking service, RentProfile, surprisingly revealed that almost 50% of us haven't. But the losses incurred by victims can be very heavy indeed.
Nor will supposed landlords be shy in being, shall we say, 'direct' with you if you begin to question their methods or back track which in itself is very telling… as you can see from the excerpt below taken from a real thread between an apparent landlord and a prospective tenant: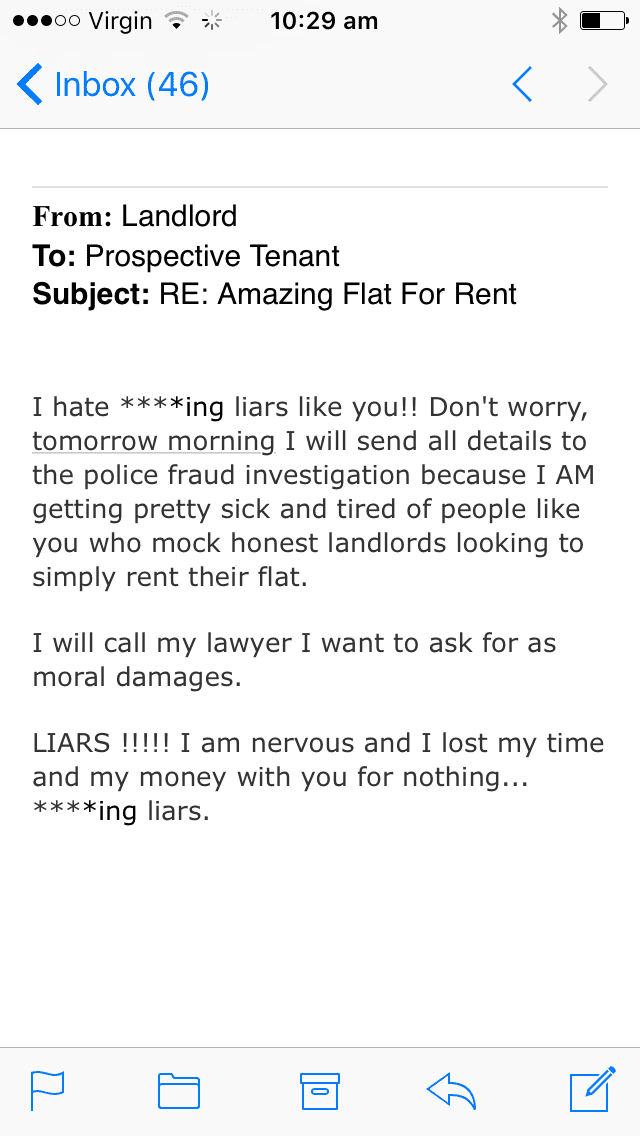 You shouldn't want to rent from any landlord who starts off in an inappropriate manner before you've even met.
Whilst rare, Citylets has been aware of fake property listings from supposed landlords for many years and we dedicate considerable time daily scanning new ads before they even go live on site.
Indeed, Citylets believes that it does more than any other site in the UK to safeguard prospective tenants and uses sophisticated technology to help prevent these ads ever appearing. We also highlight the tale tell signs to potential tenants of private landlord adverts who do not operate through an agent.
Things to watch out for
Prospective tenants who are renting for the first time, or are new to the country and unfamiliar with the procedures for securing a rental property, can be particulary vulnerable.
Whilst there are several types of scam operated by fake landlords, they generally follow the same pattern. Some of the key signs are detailed below:
1. After interest has been shown in the property ad, usually via an email enquiry, the landlord often claims they have had a bad experience in the past or travelled far to show the property only to be let down by the prospective tenant. They will request a deposit payment before the viewing as a signal of your sincere intent to attend the viewing and/or take the property.
Well, the only sincere intent here is to take your money. Never send money to a potential landlord in advance of a viewing no matter what they say or by whatever means. Stick to this and you can't go far wrong.
2. The property pictures, location and level of rent are all too good to be true.
Well, you know want they say, if it looks too good to be true…!
3. The landlord may request that you prove you have funds for the property and are not a 'time waster' by asking for a payment to be transferred, not directly to them, but to a friend or relative through money transfer services such as Western Union or Moneygram. They will ask you to forward a copy of the receipt as proof of being in possession of the requisite funds.
You may think this is safe as you are transferring to someone you know but the 'landlord' will masquerade as your friend/relative to whom the money has been sent and use your receipt copy to get details of the transaction and take out the cash from the money transfer service.
4. Often the rent includes all bills and there is little restriction of tenant suitability.
It is more normal for a landlord to make an effort to detail who they would like to rent to.
5. The landlord may even send fake documentation or information about themselves to gain credibility.
This is usually a part of the request to take your money in advance of a viewing. Don't be fooled.
6. The property listing may link out to a listing on another website, a site through which it is normal to make payments without advance viewing such as holiday or short term accommodation.
Watch out. It is likely that the listing on the secondary site is in fact a replica of the real site. You will be led to believe the money is going into a reputable site whereas it will be going straight to the 'landlord' and it is likely you will never see that money again.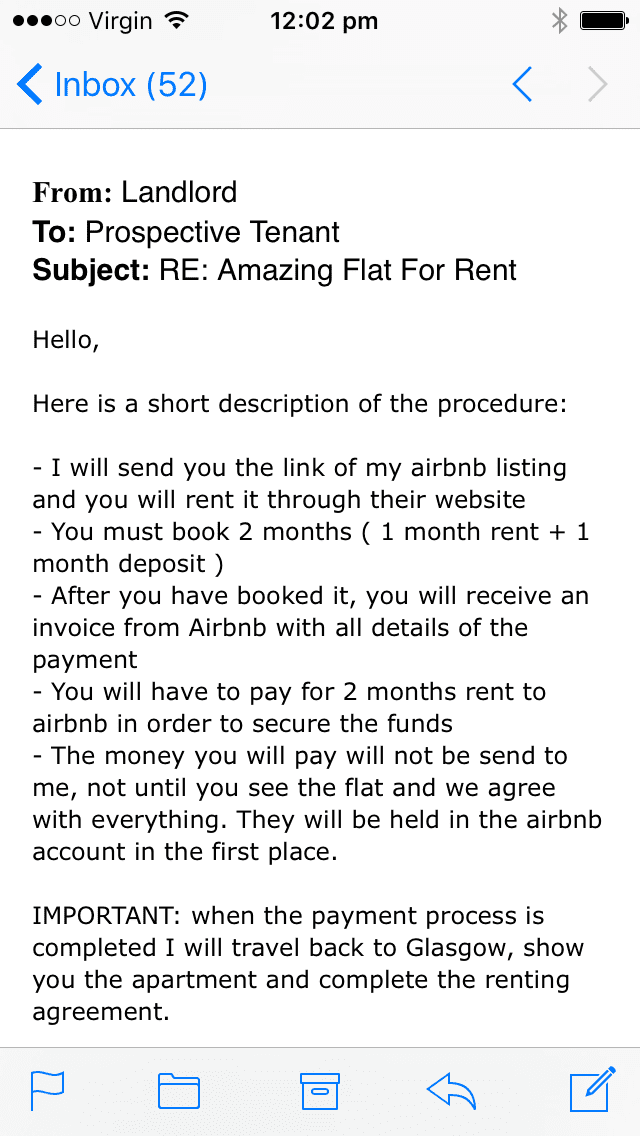 Stay safe
Fraudsters of any kind will constantly evolve their methods to deceive people but by observing the above you will be largely protected. Whilst very rare, it is extremely distressing to those caught up given the large amounts involved which are generally hundreds of pounds.