The Glasgow rental market has been rising steadily over the last 10 quarters with average rents now standing at £719 per month as at Q2 2016, up 5.0% from a year ago. Positive annual growth has been recorded in Scotland's largest city quarterly since Q4 2013 as rents continue to track the national average at around just £50 below. Whilst not as steep, the current growth trend is reminiscent of Edinburgh whose unrelenting rise started less than a year earlier.
The Citylets Report to Q2 2016 records 1 bed properties in Glasgow up 7.5% on the year to average £546 per month and taking just 24 days to let. 25% of 1 bed properties in Glasgow let within a week and 70% within a month. 2 bed properties also recorded positive annual growth at 3.9% to stand at £724 with an average Time to Let of 27 days.
Larger 3 & 4 bed properties both rose sharply by 6.7% and 10.5% over the year to stand at £1040 and £1533 per month respectively reflecting the increased demand for family homes. Indeed 4 bed homes were the biggest risers as at Q2 2016 from the 1,3 and 5 year perspectives. 66% of all property in the Glasgow rental market now lets within a month.

For Landlords, investing in residential houses and flats to rent in Glasgow has returned significant gains for all property types from a 1, 3 & 5 year perspective. Though not as steep as in neighbouring Edinburgh rents have still risen sharply in recent years with rises of 5.0%, 16.3% and 19.6%. The 5 year picture for Glasgow rental market records all (1-4 bed) property types averaging growth of between 4 and 4.5%. As per Edinburgh, rent rises have significantly outstripped inflation (CPI) and whilst this is fairly new for the City of Glasgow it is a trend that seems set to continue on current evidence.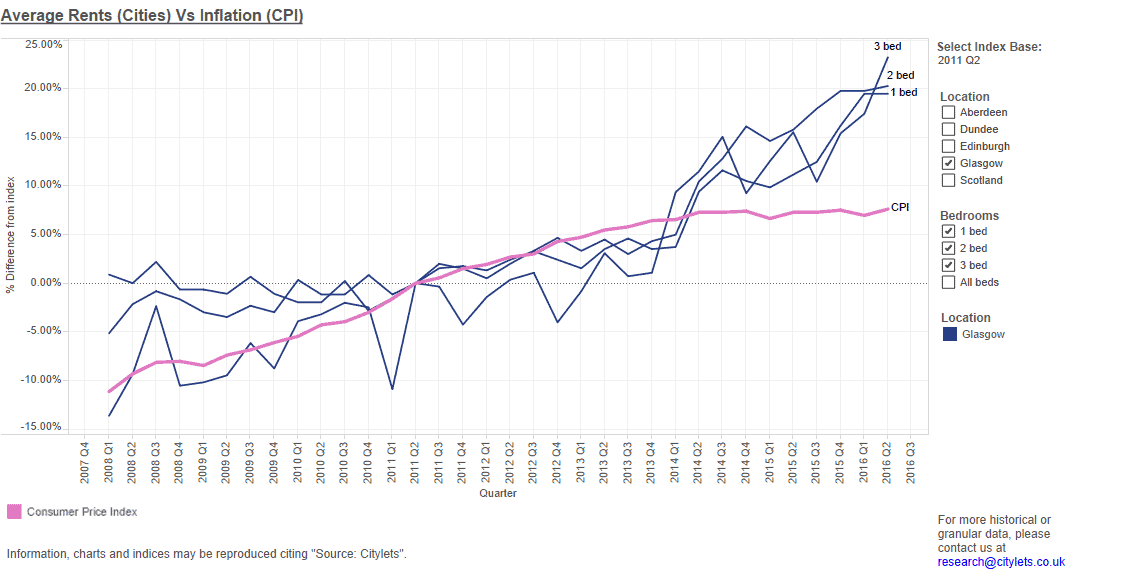 Commenting on the latest market report, Graeme McEwan from local Glasgow letting agent Be-Rented said:
"In Glasgow property lending increased to its strongest quarter start since 2008 where affordability continues to drive investment demand. New regulations via the new Private Housing (Tenancies) Act is likely to drive long-term property investments in specific areas such as student accommodation where we are already seeing increased interest and activity."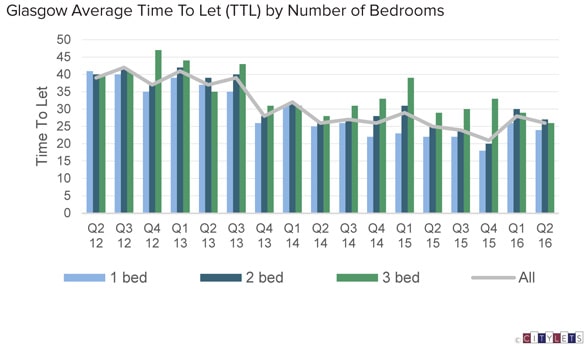 The Citylets Rental Index for Glasgow currently stands at an all time high of 126.8, up from its Q1 2008 base at an average of around 3.5% per year.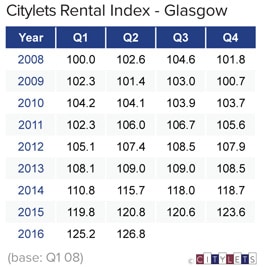 The full Citylets Quarterly Report on Scotland's rental prices can be found at https://www.citylets.co.uk/research/reports/
The Citylets Quarterly Reports are widely regarded as the most authoritative barometer of Scotland's Private Rented Sector with expertise built over 10 years of publications. For enquiries, please contact us.