In contrast to the UK trend of decreasing house prices, east central Scotland saw the average house price in the last quarter of 2017 increase by 7.3% to £234,757, compared to the same period in 2016, according to the ESPC's most recent house price report. From October to December 2017, Edinburgh's average selling price increased by 9.5% year on year to £253,598.
This increase in average selling price in east central Scotland could be connected to factors such as  a 3.1% decrease in properties being put on the market for sale and a 2.5% fall in the number of homes sold in the last quarter.
Buyers having to compete
Due to the shortage of properties available, buyers are competing with each other, enabling sellers to achieve an average of 9.3% over the asking price which is a 7.1% increase from the same period in 2016 for east central Scotland. In fact, ESPC's report revealed that 89% of properties in this area were marketed as "offers over"; an increase of almost 10% since 2016.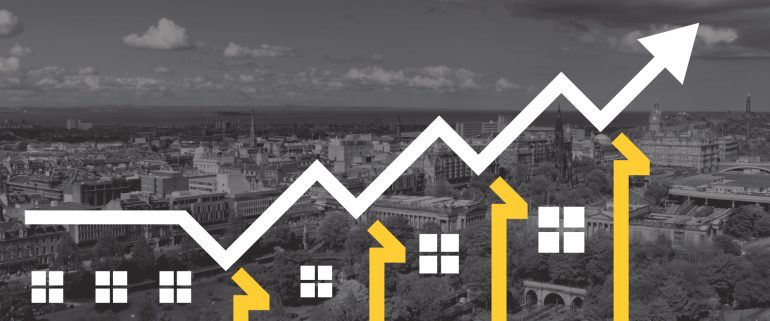 With increasing competition amongst buyers, average selling time has also dropped. East central Scotland time lessened from 25 days in the last quarter of 2016 to 20 days in the same period of 2017. Edinburgh's average selling time decreased to 18 days and one bedroom flats in Gorgie and Dalry dropped to 14 days, matching the same length of time for two bedroom flats selling in Portobello and Joppa.
Business Analyst for ESPC, Maria Botha-Lopez stated: "This is indicative of the trend we have seen for some time, of a shortage of properties and increased demand, which drive up the average selling prices."
Brexit and 2017
2017 as a whole, saw east central Scotland's average selling prices increase by 6.2% year on year and Edinburgh increase by 7% over the same period to £248,384. It appears that the announcement of Brexit had less impact on Scotland's selling prices in 2017 that originally feared.

ESPC CEO, Paul Hilton, said: "When reviewing 2017, we can see that a shortage of properties being brought to the market has led to a rise in selling prices, faster selling times and more properties meeting or exceeding their home report valuation."
Hilton explained several reasons for fewer properties being brought to the market for sale:
"… we believe this could be due to a reluctance to sell in the face of a shortage of properties, as sellers may be concerned that they have difficulties in finding a new home. The second home tax, introduced in 2016, has also meant that the 3% tax on those buying before they sell, has also led to a hesitation for sellers, while the changes to Stamp Duty has also had a slow-down effect on the top-tier properties."